The New Orleans Saints captured the ESPY for the Best Team tonight at the ESPY Awards in Los Angeles. The awards show, which was attended by a well-represented contingent of Saints' personnel, including Owner Rita Benson LeBlanc, Head Coach Sean Payton, Super Bowl MVP Drew Brees, RB Reggie Bush, TE Jeremy Shockey, RB Pierre Thomas, T Jon Stinchcomb, S Roman Harper, K Garrett Hartley, C Jonathan Goodwin and Darren Sharper accepted the top award late in the night. "It goes without saying that we thank our fans for their support," said Ms. LeBlanc. "It was a special evening and it's a tribute to the wonderful support we receive from our fans across the globe."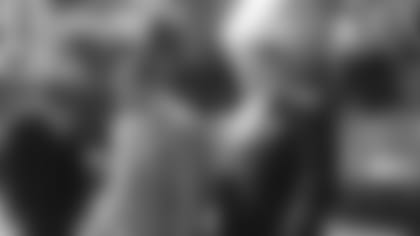 Head Coach Sean Payton, who accepted the award for the top team in sports, quipped, "It's hard to beat the Lakers in Los Angeles. But thank you to everyone. It was a special season and something that we worked on for a long period of time."
Set a franchise single-season record for wins and consecutive victories; captured Super Bowl XLIV.
Ended the regular season with the NFL's No. 1 ranked offense.
Scored 31 of the game's final 38 points to bounce back from a 10-0 deficit and win Super Bowl XLIV, the first Super Bowl championship in the franchise's 43 seasons.
Became the first team to win in its Super Bowl debut since the 2002 Buccaneers in Super Bowl XXXVII.
Brees was the big winner at the ESPY Awards, collecting four trophies, including male athlete of the year.
The New Orleans Saints quarterback also won best championship performance, NFL player and shared the team award with his Super Bowl champion colleagues.
"I would like to thank my wife and son, Baylen, who is home asleep," Brees said. "I simply want to thank the great fans of our team, my great teammates and certainly our ownership with Mr. Benson, our GM Mickey Loomis and my head coach, Sean Payton."
Skier Lindsey Vonn won female athlete of the year honors Wednesday night at the show hosted by "Saturday Night Live" comic Seth Meyers and aired live on ESPN from the Nokia Theatre.
Vonn was also chosen best female Olympian.
Landon Donovan of the U.S. national soccer team picked up three trophies, for best moment in a World Cup game against Algeria, best MLS player and the performance under pressure award.