New Orleans Saints Executive Vice President/General Manager Mickey Loomis announced Monday that 18 undrafted rookie free agents have agreed to terms with the team following the conclusion of the NFL Draft. Joining the Saints will be linebackers Kadarron Anderson, Stephen Johnson and Aaron Tevis, wide receivers Malcolm Beyah, Chris Givens and Kevin Hardy,  defensive end Braylon Broughton, defensive end/defensive tackle Tyrunn Walker,  tight end Jake Byrne, running back Travaris Cadet, defensive back A.J. Davis, center Brian Folkerts, safeties Jose Gumbs, Jerico Nelson and Johnny Thomas, tackles Dan Hoch and Aderious Simmons and return specialist Laron Scott.
The following is an outline of the 18 players who – along with the club's five draft choices and other tryout players – will be coming to New Orleans to participate in the team's rookie minicamp, scheduled to take place May 11-13.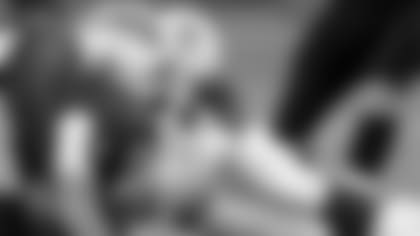 Kadarron Anderson – Linebacker, Furman (6-1, 235): Anderson was a three-year starter at middle linebacker for the Paladins, leading the team in tackles each of these seasons, overall recording 372 stops, including 21 for a loss in his 44-game career. The Greenwood, S.C. native was a three-time All-Southern Conference pick, who recorded 111 stops, 5.5 for a loss, two sacks, three pass defenses and two forced fumbles as a senior.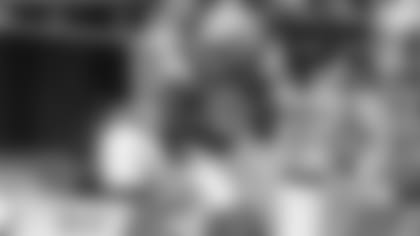 (photo via Middle Tennessee State Athletics Media Relations)
Malcolm Beyah – Wide Receiver, Middle Tennessee State (5-11, 192): In four seasons, at Middle Tennessee State Beyah appeared in 46 games and recorded 115 receptions for 1,500 yards (13.0 avg.) with 14 touchdowns. As a senior in 2011, the Covington, Ga. native appeared in 11 games and finished with 45 receptions for a team-best 497 yards (11.0 avg.) with six touchdowns.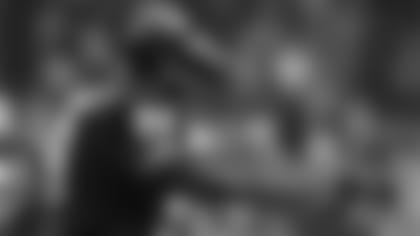 Braylon Broughton – Defensive End, TCU (6-6, 272): Broughton was a three-year letterman for the Horned Frogs, playing in 42 games with five starts over his collegiate career. The Dallas native had career totals of 45 tackles (32 solo), 9.5 stops for a loss, three sacks, three pass defenses, two forced fumbles, two fumble recoveries and one blocked kick. As a senior in 2011, Broughton appeared in 13 games and started five games for the Rose Bowl Champions, leading TCU with six tackles for a loss as he recorded 25 stops (12 solo) overall, two sacks and one blocked kick.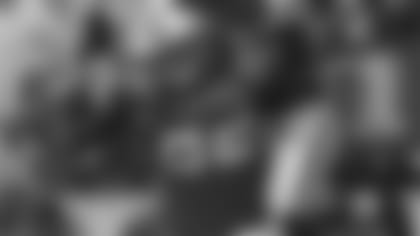 Jake Byrne – Tight End, Wisconsin (6-4, 260): Byrne was a four-year letterman for the Badgers, appearing in 50 games and recording six receptions for 57 yards and one touchdown. The native of Rogers, Ark. appeared in all 13 games in 2011, recording one 14-yard reception while blocking for the nation's fourth-ranked scoring offense.
Travaris Cadet – Running Back, Appalachian State (6-1, 210):  After originally coming to Appalachian State as a quarterback in 2009, Cadet was converted to running back and evolved into one of the most explosive all-purpose players in the Football Championship Subdivision as he closed his career with 336 carries for 1,688 yards (5.0 avg.), 57 receptions for 572 yards with two touchdowns, while also handling kickoff and punt return duties in 39 games, starting 19 of them. Overall, he racked up 3,929 all-purpose yards, as he was a two-time All-Southern Conference selection at running back and also earned all-conference recognition once as a return specialist. As a senior, the Miami native had 151 carries for 651 yards (4.3 avg.) with six touchdowns and a career-high 34 receptions for 333 yards with one touchdown, as he posted 1,603 all-purpose yards.
(Photo provided by Jacksonville State Athletics Media Relations)
A.J. Davis – Defensive Back, Jacksonville State (6-0, 183): Davis finished his four-year career at Jacksonville State with 126 tackles (97 solo), 17 pass defenses, six interceptions, three fumble recoveries and one blocked kick. He earned all-OVC honors in 2011 as a senior, as he finished with 28 solo tackles, two interceptions, five pass defenses and one fumble recovery.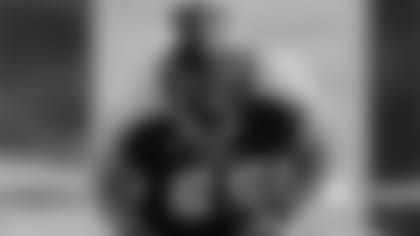 (Photo via Washburn Athletics Media Relations)
Brian Folkerts – C, Washburn (6-4, 310): Folkerts was a four-year letterman at Washburn University in Topeka, Kansas. The Florissant, Mo. native played in 44 games, making 39 starts at both the right and left tackle positions. Folkerts earned  several Division 2 All-American honors as a senior, helping the Ichabods to the fourth ranked passing offense in the country and the fifth ranked offensive team.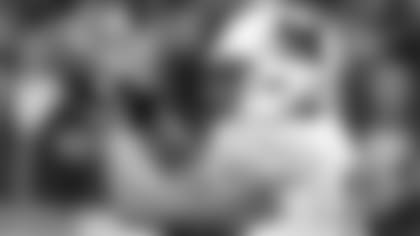 Chris Givens – Wide Receiver, Miami (Ohio) (6-2, 203): Givens, a Chilicothe, Ohio native, recorded 157 receptions for 2,121 yards and 15 touchdowns in his five-year career as he ranked seventh in Redhawks record books in both catches and yardage. As a redshirt senior in 2011, Givens had 60 receptions for 695 yards (11.6 avg.) with five touchdowns.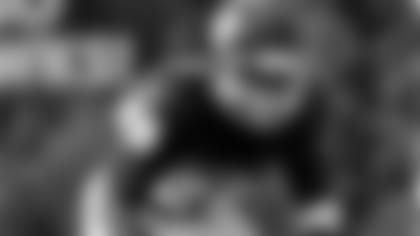 (Photo via Monmouth Athletic Media Relations)
Jose Gumbs – Safety, Monmouth (5-10, 210): Gumbs was a four-year starter for Monmouth, leading the team in tackles all four seasons as a Hawk, finishing third in school history with 306 stops (188 solo). In 2011, the Queens, N.Y. native was selected as a third team All-American as he led the NEC in forced fumbles with four, had nine pass defenses, two interceptions and blocked three kicks, while finishing with 75 total tackles.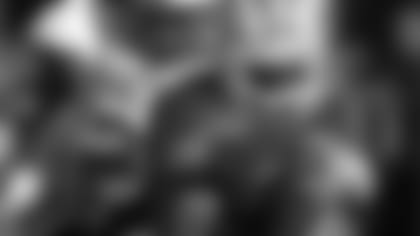 Kevin Hardy – Wide Receiver, Citadel (6-0, 186): Hardy played four seasons for the Bulldogs and saw action in 44 games, playing both wideout and handling returns. As a senior in 2011, the Ocala, Fla. Native ranked sixth in the Southern Conference with an average of 24.4 yards per kickoff return, with his 716 all-purpose yards ranking second on the team.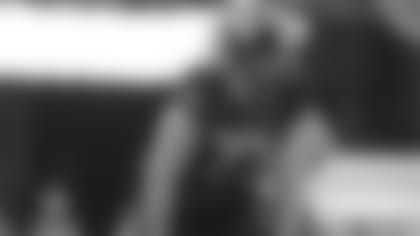 Dan Hoch – Tackle, Missouri (6-7, 320): Hoch was a three-year starter at right tackle for the University of Missouri. The Harlan, Iowa native once again handled starting right tackles duties and was a 2011 All-Big 12 honorable mention selection, playing a role in Mizzou's potent offense as the team ranked 11th nationally rushing and 13th in net yards per game while surrendering only 18 sacks.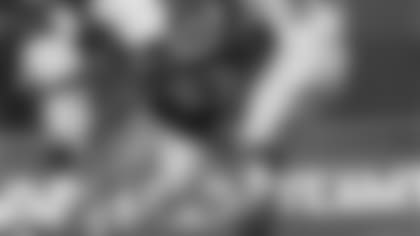 (Photo via Temple Athletics Media Relations - photographer Mitchell Leff.)
Stephen Johnson – Linebacker, Temple (6-1, 230): Johnson entered Temple as a walk-on in 2007 and did not see action with the Owls until 2010, recording career statistics of 154 tackles, two sacks, four forced fumbles, one interception and six pass defenses. However, the Norristown, Pa. native saw his first action as a junior and became Temple's starting middle linebacker in 2011, as he led them in tackles (123), while adding two sacks, five pass defenses and three forced fumbles.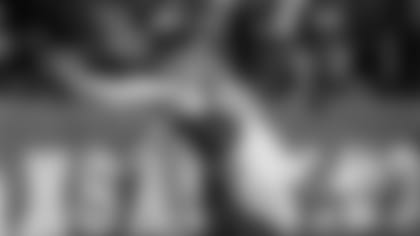 Jerico Nelson – Safety, Arkansas (5-10, 216): This former Destrehan High School standout played in 49 games over four seasons for the Razorbacks, making 169 tackles, 27 for a loss, 10.5 sacks, four interceptions, nine pass defenses, two forced fumbles and three fumble recoveries. As a senior, Nelson recorded 70 stops (33 solo), 5.5 tackles for a loss, two sacks, two interceptions, two pass defenses and one fumble recovery.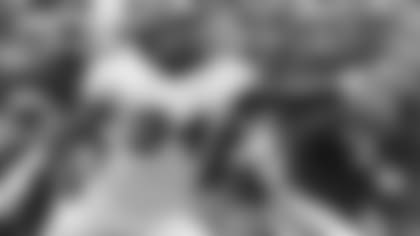 Laron Scott – Return Specialist, Georgia Southern (5-9, 179): The Warner Robins, Ga. Native set a school record as a senior with 2,257 kickoff return yards with three touchdowns, as his 30.6 average ranked third in the FCS. Scott also started all 40 games of his college career at cornerback in Statesboro at cornerback and finished with 12 interceptions.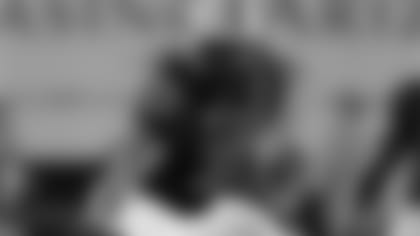 Aderious Simmons – Tackle, Arizona State (6-7, 308): Simmons, a graduate of John Ehret High School who did not play high school football, returns to his hometown to compete for a roster spot. After beginning his college career at Pasadena (Calif.) City College and El Camino (Calif.) Junior College, Simmons transferred to Arizona State in 2010 and appeared in 13 games with nine starts in two seasons for the Sun Devils.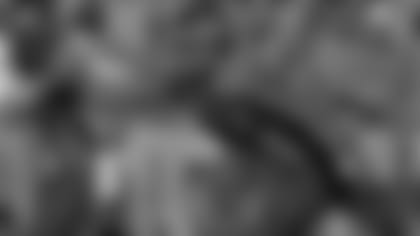 Aaron Tevis – Linebacker, Boise State (6-3, 234): Tevis was a three-year starter and four-year letterman for Boise State, finishing his college career with 173 tackles, 4.5 sacks, 14.5 tackles for a loss and seven interceptions. The Tucson, Ariz. native started all 13 games as a senior in 2011 and registered 46 tackles (20 solo), including 2.5 for a loss with one interception.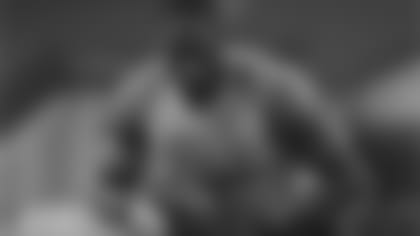 Johnny Thomas – Safety, Oklahoma State (5-11, 205): Thomas lettered three years for the Cowboys, appearing in 35 games, making 100 tackles (79 solo), three interceptions, six pass defenses, two forced fumbles and one fumble recovery. As a junior, the Texas City, Texas native started 11 games at free safety and recorded 63 stops (51 solo), three interceptions, five pass defenses, two forced fumbles and one fumble recovery.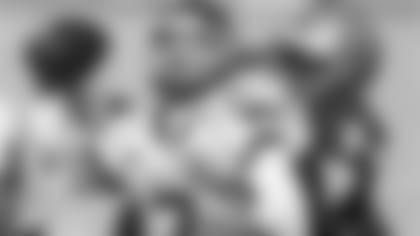 Tyrunn Walker – Defensive End/Defensive Tackle, Tulsa (6-3, 294): Walker is a New Iberia native, who started his career at Jones County (Miss.) Junior College and after transferring to Tulsa started in all 26 career games, totaling 84 tackles, 25.5 stops for a loss and 13.5 sacks, 11 pass defenses, four forced fumbles and two fumble recoveries.