Saturday night in the Mercedes-Benz Superdome, the New Orleans Saints will host the ascending Houston Texans in a nationally televised tilt at 7 p.m.
The game will feature a matchup between a pair of 2011 division champions that are no strangers to each other. The Saints, who finished 13-3 and captured the NFC South crown, played the Texans in both the preseason and regular season in 2011.  
On August 20, 2011, at Reliant Stadium, the Texans took the exhibition, 27-14, but the Saints struck back on September 25, when they came back from a fourth-quarter 33-32 deficit with 4:13 remaining to take a 40-33 win on a late 13-yard touchdown rush by RB Mark Ingram and a QB Drew Brees to WR Lance Moore two-point conversion.  
The Saints continued their work to improve in their preseason home opener last Friday night against the Jacksonville Jaguars.
The Saints fought back from a 17-3 deficit to take a 24-20 lead with 1:53 remaining on a 24-yard touchdown pass from QB Chase Daniel to RB Travaris Cadet, but they ended up on the losing end after a two-minute drill by the Jaguars that included pass interference penalties of 31 and 20 yards and ended with a 11-yard touchdown pass from QB Jordan Palmer to WR Kevin Elliott.  
While the game reminded the Saints that plenty of work remains in the final two preseason contests ahead of them, their top two quarterbacks did not show much rust. Drew Brees completed 10-of-13 passes for 133 yards with one touchdown pass and a 134.5 passer rating. His backup, Daniel, also shined, as he completed 16-of-21 throws for 185 yards with two scoring tosses and a 134.0 rating.  However, New Orleans was hurt by 12 penalties and a second quarter lost fumble that was converted into a field goal. In addition, the starting defense surrendered a pair of early touchdown passes by Jaguars QB Blaine Gabbert.  
"The tackling in the first half was disappointing," said Assistant Head Coach/Linebackers Joe Vitt. "It is something that we are going to have to work extremely hard on this week. We need to do a better job protecting Drew. He took a hit on the fumble, and we need to do a better job on that."  
However, Vitt feels that many of these errors can be cleaned up in practice this week as the club continues to install their offense and defense leading up to their September 9 regular season opener when they host the Washington Redskins.  
"I looked forward to getting back to practice this week and to getting our guys back to work," said Vitt. "This is something, as a coach, you kind of relish, to get a player from point A to point B and then point B to point C. We have a lot of coaching to do and things to clean up."  Several younger players who are competing for roster spots were also bright in the narrow loss, as the Saints continued to receive impressive play from Cadet, who rushed three times for 28 yards (9.3 avg.), tied for the team lead in receiving with five receptions for 62 yards and also added three kickoff returns for 85 yards and a one-yard punt return in an evening where he posted 176 all-purpose yards.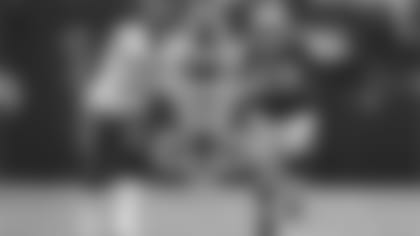 Defensively, second-year S Isa Abdul-Quddus recorded a second half interception, while rookie CB Corey White nearly snagged another until it was reversed by an official's challenge. Undrafted free agent DE Braylon Broughton also recorded a sack. The Houston Texans are looking to build on their finest season in franchise history that ended in the AFC Divisional Playoffs.  The resilient Texans reached the second round of the postseason despite being forced to play their third starting quarterback due to injuries.  
The Texans offense is powered by a solid mix of the run and the pass. Before suffering a season-ending foot injury, QB Matt Schaub completed 178-of-292 passes for 2,479 yards with 15 touchdowns, six interceptions and a 96.8 passer rating. RB Arian Foster powers a running game that ranked second in the NFL in 2011, as he finished fifth in the league in rushing with 278 carries for 1,224 yards with 10 touchdowns. The former University of Tennessee standout was also a threat in the passing game with 53 receptions for 617 yards (11.6 avg.) with two touchdowns to finish third in the NFL with 1,841 total yards from scrimmage.
Much like the Saints, the Texans also receive impressive production at both wide receiver and tight end with mainstay WR Andre Johnson, as well as TE Owen Daniels, who narrowly edged Foster for the team lead in receiving with 54 receptions for 677 yards and three touchdowns.  
Defensively, the Texans enjoyed drastic improvement in 2011. Under defensive coordinator Wade Phillips, the players he employed in his 3-4 scheme finished second in the NFL in total defense (285.7) while forcing 27 turnovers. This season, they will be mixing some new parts in with the departures via free agency and trade of DE/LB Mario Williams and LB DeMeco Ryans.  
The heart and soul of the Texans defense is LB Brian Cushing, who was his team's leading tackler in 2011 with 114 stops, also adding four sacks, two interceptions, five pass defenses and two forced fumbles. LB Connor Barwin took advantage of Phillips' scheme to record a team-best 11.5 sacks, while the duo up front of DE J.J. Watt and DE Antonio Smith recorded 5.5 and 6.5 takedowns respectively.  
The Texans secondary is led by CB Johnathan Joseph, a shrewd free agent acquisition by Houston General Manager Rick Smith in 2011, who tied for the team lead with four interceptions and 15 pass defenses and was an Associated Press All Pro second-team selection.  Competition is intense on special teams for the Texans with a race at kicker between rookie Randy Bullock and veteran Shayne Graham and auditions at the returner positions following the departure of WR Jacoby Jones to Baltimore.  
Despite changes on the rosters to both teams in the offseason, the clubs will still be certainly familiar with each other having played twice in 2011 and having been annual preseason opponents since 2008.