New Orleans Saints Defensive Coordinator Rob Ryan
Media Availability Transcript following OTA #3
Thursday, May 23, 2013
How is it working with Sean Payton on the field?
It's awesome. I got lucky. I came out here and I'm fortunate enough to be with a great program like the Saints led by Sean Payton.  I haven't felt this way since I was in New England with Bill Belichick, so I'm working for the best and hope to be a small part of our success.
Can you explain to me about how you haven't felt this way since you were with Bill Belichick?
I just feel like (there is) a sense of urgency. I can't wait to give everything I have to this organization.  I know everybody is on the same path. The big sign that used to be up there saying 'Do Your Job,' I have heard those words before, and I plan on doing it.  I have two Super Bowl rings, won one of them out of here in sweet live New Orleans. This is a great organization, and that's where I want to be.
As far as the schematic change, how challenging is it for these guys to be playing for their third defensive coordinator in the last three years?
I'm not worried about the other ones, I'm just worried about me, and obviously the biggest thing first of all is (in) coming to the Saints, obviously we got a great head coach and an incredible general manager in Mickey Loomis. But the big thing for me is I have the best assistant coach in football already here this side of Dick LeBeau in Joe Vitt.  So he never coached a single snap at defense last year, that's like getting a first round pick. We got Joe Vitt coaching defense and I'm part of that. Bill Johnson's part of that.  We got the number one college coach in football (last year), secondary coach Wesley McGriff, and then we got three great ones (in) assistant secondary coach Andre Curtis, defensive assistant/linebackers coach Brian Young, and defensive assistant Marcus Ungaro. So I'm in a very fortunate situation to be in and these guys have been well coached before, they are smart, they are just ready to win.  I think we all have a chip on our shoulder from last season. You know I don't like getting fired, but I knew I had a job in five minutes, so it was no big deal.  I know I got my feelings hurt and so did our players so we're looking to do something about it.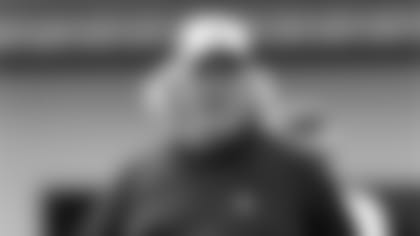 How challenging is it for you to have that fine balance, to where when you're implementing a game plan and you have the right schemes to stop an opponent but then how do you pull back and judge whether they can handle it or not as an individual player?
I think there's a fine line there. This is what the OTAs are for. You give them a ton of stuff and really get to know this team.  Everybody knows them (returning players) except me (being new). I want to be a part of this. I have to push these guys mentally to the limit and see what they can and can't do and I have been so impressed with these guys. I haven't taken over a defense like that and this is my tenth year coordinating in this league.  No one (that I've worked with) has picked up the things as fast as these guys have on the board. Now doing it out there on the field is a different thing, but I'm going to get to know these guys.  I know our success is where that's been as a pressure team, but I also know we could do more with our coverage and we have to.
Talk about working with Wesley McGriff and what does he bring to the table now that you're actually out on the field together?
He's been tremendous. This is a thing where Sean (Payton) wanted to hire the best coach, not the one with the most credentials. He wanted the best coach. So we all sat down as an entire defense (coaching staff) and Sean, and we picked the best one, Wesley McGriff.  He was the recruiting coach of the year last year, but he's a better coach than he is a recruiter, and we're fortunate to have him.  He is outstanding to have on the field. He's excellent, he's sharp, he knows his coverages and techniques, so he's a huge addition just like our draft choices are.
What are your thoughts on Chase Thomas?
Chase Thomas is from Stanford, so we know he is a smart kid.  He's proved he has position flexibility and we love the kids that our position flexible. You can move them around in different packages, try to confuse the opponent, but not us, so he's a nice fit.  He's working hard. Our guys are all working hard. There's no set lineup. They're competing and we enjoy it.