New Orleans Saints Tackle Ryan Ramczyk
Conference Call with New Orleans Media
Monday, December 24, 2018
How does it feel to have Christmas on your normal Tuesday off?
"Yes, it's kind of cool it does fall on our day off and enjoy the time (with families). I don't think it happens very often that it falls on the day off. Pretty special and pretty cool. Going to enjoy the holiday at home."
How are you feeling after you left yesterday's game?
"Yeah I'm not too bad really. I tweaked my ankle a little, but was able to tape it up and get back out there and I'm actually feeling pretty good today. I'll be good."
Do you feel like the offense got back on track yesterday?
"Yeah, yesterday we wanted to go out there and run the ball, as well throw the ball. Attack them in that way and up front we did run the ball. We take pride in running the ball and I think we could've done a little bit better job in some aspects there. Overall, we got the win and that's what we play for. Happy with the turnout yesterday."
What does it say about Alvin Kamara as an athlete on that play before the field goal that allowed for it near the end of the first half?
"That's huge. We go through situations each week in practice and for him to be able to make that catch and run and get out of bounds with time left on the clock and in field goal position, that's big to be able to score points going into the half and then we were able to come out in the second half with the ball. That was definitely clutch."
What does is say about this offensive line with guys like Andrus Peat able to play multiple positions?
"It's been huge this year. Some guys have gone down. I know yesterday I went down and Andrus (Peat) had to swing over to right tackle. I don't know when the last time he played right tackle was, but we got guys like that who can move around the line and play different positions. That is so vital and critical to the offensive line and our production and our offense. I praise all the guys who stepped up yesterday and filled those positions."
How tough is that for Andrus Peat to play left tackle, left guard and right tackle?
"Well I think it's extremely difficult. I know last year after I went from left to right tackle and as far as the playbook goes it's the same it's just flipped. But (if) you go from guard to tackle it's different. You have different combinations, you have different set patterns. That's not an easy thing to do. It shows a lot about him as a person and a player, that he can deal with that and then succeed at those positions."
How big was Michael Thomas touchdown catch yesterday?
"We always have the confidence in our offense and defense as well. But Drew (Brees) comes in there and he never gets too high, never gets too low. He's the same person every single snap and I think when we're in the huddle you see that and it calms us as an offense and we can accomplish whatever we need to do. We go out there confident every play even when the game's on the line like it was last night. Definitely, a lot of confidence in the huddle."
From the win streak, to the last three four weeks of close games, how does that affect your impression of this team thus far?
"I think we're a resilient team. In this league I've watched enough games growing up and this was only my second year, but not every NFL game is a blowout. Even if you have a dominant offense or defense. It just doesn't happen a lot in the NFL. We know that that's not a common occurrence and I think later in the year you have to battle through some games and I think that shows you what kind of team we have and I don't want to say we got used to blowing out teams, but there was a point where, now we're playing in a close game and I think it just shows the resilience our team has and the confidence we have to go out there and even if we're down we're going to battle and put our best foot forward and get out there and do what we have to do."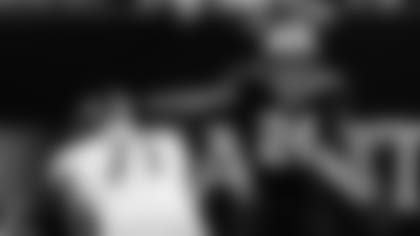 New Orleans Saints Safety Vonn Bell
Conference Call with New Orleans Media
Monday, December 24, 2018
How nice is it to have Christmas on your off day this year?
"Oh man it's truly a blessing. Being surrounded by your loved ones and friends and family. Being to spend (time) with loved ones and friends and family like I said is awesome because you also get your mind off football, but also just cherish the time with your family. It's a huge blessing."
What's been going well for you the last few games?
"Really been just dialed in on the game plan and just really trusting it because our position coaches just reiterate that we want to play our best ball in December and that's when great team's separate themselves and that's when great DB units separate themselves and we'll just believe in that and really just dial into that and just play for each other and just go out there and have fun and just letting it loose on Sunday."
What did Chris Banjo add to the secondary?
"He just came in man-to-man, five-wide (packages), they had me matched up with a receiver so we brought in another safety. He's very reliable, always making plays on the ball when he comes in. He's always a workhorse in our DB room. We have a lot of faith in what he can do and what he brings to the defense. That's what we believe he can do in that role that he did on Sunday."
Do you feel like playing the Steelers helps prepare you for anything you'll see the rest of the way?
"Oh for sure, because it's always great to go against a receiver group with that (talented) core and just really work your technique and eyes. Go out there and compete at a high level because they have a really complete receiving group and what they do with the five wide, they bring in different receivers. You have to go out there and matchup. They have great communication with their quarterback and just finding space through the defenses and just getting open. They work back to the ball and you just want to turn your eyes and your feet and everything as a DB and just go out there and compete at a high level. Go out there and win your individual matchup and really just be a key component for the defense when you do that. It was a great challenge for us DBs and we just have to keep getting better in that aspect and compete every down."
How does that Steelers offense compare to the teams you faced thus far?
"They have great skill players in space. Like I said, they are on the same page with the quarterback. Being able to find the ways in the zone and maneuver within that and breaking away and breaking coverage. As a DB you have to train your mind for more than just a three second play because the play can be extended because the quarterback knows how to work the pocket and going against Big Ben (Roethlisberger) and he's so on time with these receivers. One of the challenges, it's almost the same as the Rams because they have big vertical threats and going against Julio (Jones) and all those games we played all year. We played well against those guys. It was just another stepping stone on our journey."
How do you feel like you've been progressing through your career? How big has this year been for you in terms of growth?
"It's been huge. Just stepping into my role, going out there and diagnosing the game, what's the situation, just going out there and making plays in the passing game and the run game. (I'm) just trying to be an overall complete player for my teammates. Dialing in and just diagnosing the game week in and week out. Having that momentum each week and (to just) keep on going has been huge. It's been a great year. I'm just going out there and doing it for my guys, leaving it all out there on the line, and playing for the coaching staff. We're really just enjoying the game and doing it at a high level."
Last year you clinched the division in week 17. How different is it this year just having everything crossed off?
"All the goals we set during the spring, OTAs, and before the season; we've just been crossing them off. Win the division, getting home field throughout the playoffs, and we'll just keep on checking and checking off. The work isn't done and that's what I love about this group. We never get complacent. We're always hungry and eager for the next mission and the next assignment. We just go out there and go to work every week. That's why I am saying hats off to this group and what kind of guys we have in the locker room. We'll just keep on working to the greater goal. We're just waiting for our next assignment. I think we stepped up to the plate this past weekend. Finishing it off and clinching home field. Now we're just waiting on our next assignment."
What is your approach to preparing for a game where you want to stay sharp, but you're not sure how much you're going to play?
"We're going to treat this like a regular work week. The work is not done. We're not throwing all the hay in the barn. We're going to fine tune what the coaches provide us and what they bring us this week. Throughout the preparation, throughout the week, we're going to treat this like a regular work week. We're going to do what the coaches tell us to do and if we have to play, we have to play. You go out there for your guys. It is all for one purpose, one mission, and that's what we're here for."