New Orleans Saints DE Cameron Jordan
"All I saw was humidity. I was seeing mirages. No, I'm just playing, I'm just out there working hard. First day out in this wonderful weather."
Overall how did it feel to be in pads in comparison to last year? I mean, it was humid, but not as humid as past practices.
"Last season was a welcome. When you come from the West coast you're used to the dry heat and then you enter this swamp and you get up with 90% humidity and 140 degrees in pads. Today was nice though. You know we had the overcast, and it was only a little humid. The fresh rain was on the ground. But, you know, it was a good day of practice, definitely a good intro day. Best we could have asked for an intro day. "
How does it feel to be in pads for the first time since, well, San Francisco? You're working with a new scheme and it's been a while.
"Like I said, this was a great intro day. You got your full pads on, you got a little more contact…for the linebackers and d-backs. O-lineman and us D-lineman are hitting every play."
What do you think would be a winning situation for you, do you combine quarterback pressures with sacks, or what is your goal as far as number of sacks?
"Having a limited role last year, with third downs and passing downs, I don't really have a ceiling as far as what I can and cannot do. You know I'm just ready to be on this defense and I don't want to put any numbers on it, but I'd hope it'd be in the double digits."
What do you think of Steve Spagnuolo having so much variety in his scheme?
"When a D-coordinator and a player have two different dreams, they don't always collide very well. But it's so great for me because I see myself as a versatile player and he sees me as playing so many different roles. And so we come together and this is great for me. I think anything he allows me to do, I can do. I'm all for it."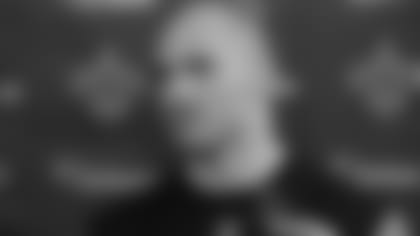 New Orleans Saints LB Scott Shanle
Media Availability Transcript
What did you think of the practice?
"It was a great practice. I thought it was great getting outside, putting on pads, learning a new defense. I thought it went really well."
Steve Spagnuolo talked about the volume of learning. Is it about learning it and how difficult is it to learn it?
"It's difficult from the standpoint of the differences in defenses. We're still pressuring a lot. It's just a different way with zone pressures. With zone pressures, more goes into it. With man pressures, that guy's covering that guy, everybody's blitzing, so it's pretty much set in stone. With zone pressures, you have defensive linemen dropping, linebackers dropping. You don't know where you're dropping until the routes unfold, so it's good because it buys time of the blitz to get there, because the quarterback has to see what's going on before you deliver the ball with a one-on-one matchup somewhere."
Why do you think you've been so successful in being able to play in the NFL for so long?
"I think it's versatility. Just being able to do a number of things. You're not going to stick around if you're a one-dimensional guy. You might run and cover, you might play some nickel for some years. If you can do both for quite a while, obviously as you get up in years you become more one-dimensional. I just think the versatility is important to be able to play in both a 3-4 and 4-3, man to man and zone."
How do you feel being back on the strongside now?
"I actually feel a little more comfortable on the strongside now. Even though, I was listed as a will linebacker my first three years here in '06, '07 and '08, I actually played on the strongside. It was just the terminology of the will and sam. I feel comfortable on the tight end side, being behind what we call the three technique defensive lineman and I think David Hawthorne is a great weakside linebacker. He's' very athletic and plays in that b gap very well."
Can you talk about your experience with Steve Spagnuolo?
"It's been great. I've talked to a number of guys that have had experience with him, whether it be Philadelphia, New York or St. Louis that have all spoken very highly of him, so when the announcement was made he would be the defensive coordinator, the first time Jonathan Vilma and I talked, we were excited, especially after we played them last year and saw the confusion their defense created when we played them up there. We're excited and we knew learning his scheme would take some time."
With Jonathan Vilma not here and Curtis Lofton in the middle now, is it tough striking up the same kinship and bond on and off the field?
"It equates to what I went though when Mark Simoneau and I played together in '06 and '07. Jon Vilma came in in '08 as the new middle linebacker. You have instant respect for Jonathan Vilma because of what he's done as a middle linebacker. You know the guy can play. It's the same thing with Curtis Lofton. I've seen Curtis in Atlanta play at a very high level twice a year. I knew when we got Curtis Lofton we were getting a great middle linebacker. The next step was developing a relationship with him. Both him and David (Hawthorne) have fit into our room very well."
Are his leadership skills and abilities similar to Vilma?
"I think it's too early to tell. I go back to Jonathan in '08, Jonathan wasn't the same leader and personality in his first year. It takes time to know guys, develop trust from them, especially when you're a middle linebacker. Everybody expects a middle linebacker to be vocal and know everything. I think Curtis feels he wants to earn the guys' respect first and I think he has that and has become more vocal at that position."
Do you laugh at the talk where people doubt you year after year?
"Yes, it's nothing new to me. I don't think too much of it. As long as I continue to produce with Mickey (Loomis) and Sean (Payton) and Coach (Joe) Vitt, I've obviously done something right and they've kept me around here. I think it goes back to being versatile and being able to play a lot of positions, the trust factor. I think when you've played a lot of football for people and they've seen you play, play in big games for a number of years, there's just a trust factor when it comes to Sunday and being calm."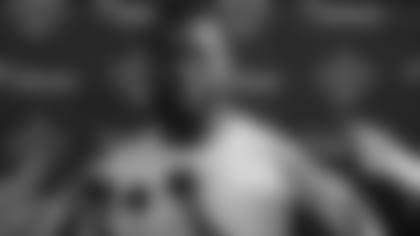 New Orleans Saints Guard Ben Grubbs
This was the first day with the pads on. How did it feel?
"It felt pretty good. Everything went as expected. A little rusty but as the days go by you continue to get better."
Is this the first day to learn other than in the classroom?
"Yeah, definitely. OTAs and mini camps, they're great, but you can never really gauge where you're at until you put the pads on. I'm still learning as expected but I want to get to a point where I'm not thinking, just learning."
Is this a different feel than in other seasons?
"Yeah, it is different. Just the whole me being in New Orleans is different. It was a change of scenery. Change of the locker room and coaches but everybody (has) embraced me and it (has) made my transition a little bit easier."
What are the major differences than the Ravens and the Saints?
"In the past, when I watched the Saints, everybody was looking at Drew Brees, but what is impressive is the running backs that we have in the backfield. Any day we can pick what we want to do. We can throw the ball 60 or 70 yards or we can round the ball up the middle and give it to (Darren) Sproles and let him do his thing. It's really impressive and I'm just glad to be on a team that has so many weapons."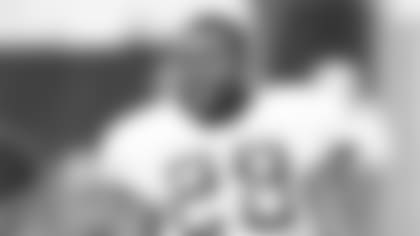 New Orleans Saints RB Mark Ingram
"I'm feeling good. I'm just taking it one day at a time. I feel good out there running and cutting. I feel healthy, I feel strong and I feel fast. It's just about staying healthy, keeping the maintenance up on it and making sure I maintain that health throughout the whole season. That's the number one priority is getting better and staying healthy."
Can you talk about the running backs group as a whole with you, Darren Sproles, Pierre Thomas and Chris Ivory?
"I think those four names can go anywhere and play, not just here. It's great that we all have such a good relationship in that running back room. We hang out together all the time. If anyone has a question in the film room, everybody is open and we help each other out. We push each other to get better. We compete, but at the same time it's friendly competition. Everyone wants to go out there and win a championship. Everybody wants to be the best that they can be for the team. That's why we come out here and practice hard every day."
You mentioned maintaining your health is very important for this season. What else have you learned from last season that you can take into this season?
"The rookie year was just a complete learning experience, just coming in, being familiar with my teammates, getting comfortable with my coaches, the organization, the playbook and everything else. I learned the playbook last year and this offseason, just studying it and watching film. Your second year in the NFL, I think you grow a little bit more. It was similar to your freshman year in college. My freshman year, I did some good things. My sophomore year, I grew into a better player by learning offense and learning how to read defenses. I just think your second year in the league you grow more as a player and I think that could bring some more success."
Can you talk about the reaction you got from the crowd on the play where you bounced it outside for a big gain?
"That was just a little something. It probably would have only been a three yard run or something. It felt good to bounce it outside, cut it up and finish the run. I'm just out here working hard."
Were you thinking about the injury at all on a play like that when you do have to cut up the field?
"I don't think about my injuries at all when I'm out there. I just go out there and give it one hundred percent. If you go out there and think about an injury, that's how you get hurt again. I just go out there one hundred percent, full speed, and when I see something, I cut. If it's on that knee, it's on that knee. If it's on the toe, it's on the toe. It really doesn't matter to me. I just go out there and go one hundred percent, full speed every rep I have and try to make the best of it."
Are you at the point right now where you think you can be the every down back on third down?
"Definitely. I believe any way that the coaches need me to contribute in this offense, that's what I'm going to do and that's what I'm happy to do. In my eyes, I've always thought that I'm an every down back, an all-purpose back, a guy who can run inside, a guy who can run outside, a guy who can run routes and catch the ball out of the backfield and pick up yards for you, and a pass pro. I don't label myself as a short yardage back or a power back. I think I'm an all-purpose back that can play for you on every down no matter what it is."
Are they bringing you along more in the passing formations?
"Yes. You just have to grow a little more. You have to know the protections. You have to know your routes when nobody is coming so you can get to your check downs for Drew (Brees). You just have to be one hundred percent on your execution out there. That's my main focus is coming out here and having no mental errors and just having complete execution every single practice."