New Orleans Saints S Malcolm Jenkins
Wednesday, August 01, 2012
Do you think Spagnuolo's defensive system helps the defensive backs?
"I think it gives us a lot more opportunities to have eyes on the quarterback and play a little bit of zone. It takes some stress off of some of the corners and some of the cover guys. It gives us a little more of an opportunity to make plays on the ball."
It looked like you guys confused Drew Brees a little out there today. Did you think that as well?
"It's definitely a very complicated defense. It does confuse quarterbacks. It gives them different looks out of multiple packages. It does give quarterbacks a little bit of a hard time to figure it out. The back end of that is that it's a little complicated for the defense as well, but I think the guys are doing a good job of grasping all the concepts. The coaches put a lot in just to see what we can handle, and I think we've done a good job of it."
Is it more of a read-zone defense with you playing deep secondary?
"No, it's not necessarily a true zone. It's more of a matchup zone. It starts out in a zone and ends up in a man thing. I think that benefits us because our team and our secondary are built for man coverage. We have corners that can play press and lock down. When they built this secondary, it was for Gregg Williams' defense, which was a lot of man-to-man coverage."
How are you all going to cover the fade in the red zone?
"All we're going to do is put a linebacker out on Jimmy Graham and just leave him there because he'll shut it down."
Can you talk about the advice you've given Johnny Patrick and how he's progressed?
"Well, the thing about Johnny (Patrick) is that he's a natural football player. He makes a lot of plays that are just pure ability. He's made a few plays this camp so far, and it's eye opening. The thing with him is just getting the game to slow down for him as far as the mental part. Getting his reads down, not looking at the big picture, but just looking at the things he needs to do to play a little bit faster. I think he's come along really well."
With the loss of Tracy Porter, do you have faith that Johnny Patrick can step into that role now?
"We'll be fine. Patrick Robinson, he made a huge jump from his rookie year to his second year. He played a lot better and he's getting better as well. Johnny Patrick will be that third corner that we have that can come in and make plays. I think we'll be fine."
You have three young safeties back there working in Jose Gumbs, Jerico Nelson and Johnny Thomas. Can you talk about the progress of those three guys?
"They're coming along. I think it's a lot for them too because mentally it's a lot for even a veteran. They're minds are spinning a little bit, but I think they're coming along pretty well. They're eager to get out there and play. I think the big thing for them is just going to be able to show what they can do on special teams and really impress the coaches."
With the game in Canton coming up this Sunday, can you talk about how it feels to know that you're about to start playing other teams already?
"It's coming up quick, but I think we still have a lot of ground to cover in these practices before we can really focus on game time. We still have to get through the basics. Today was our first red zone day, so we still have a little bit more to install before we can really lock in on the game."
Marquis Johnson always seems like he's around the football. What's been your impression of him so far?
"He's actually been in this defense before. He was with the Rams, so he's familiar with it and he's playing a lot faster than most of us because he's comfortable. He's been making plays. He's knocking balls down. He's gotten a few interceptions. He's been playing well and I'm excited to see what he can bring to the table."
With the new CBA, how do you like the new training camp format?
"It's definitely different. Without the second practice, it takes a little bit of wear-and-tear off your body. It's still long because they just replace it with walk-throughs and meetings. It's still a long day in a way on you mentally. From a body standpoint, I think it's good for the players and good for the team in general."
Do you have any personal goals heading into the season?
"No, just win the Super Bowl. Really just do everything I can to help this team get better with my play as well as improving the players around me and help us win games. That's really all I really want to do. That's all I get paid for and that's why everybody's here."
Without Coach Payton being out here, are you all used to it by now or is it still weird without him being around?
"I think guys are used to it. I think there's too much on the table right now to really dwell on what's behind us. I think Joe Vitt has done a great job of stepping into that role and leaders on the team, from players and coaches have done a good job of stepping up and taking that burden on as a team."
What kind of advice do you give the young guys who are battling for a backup safety spot?
"The biggest thing for any backup player on the team is what you do on special teams. That really needs to be their main focus because that's how they're going to make the team. Other than that, it's really just paying attention to the other guys in front of you. Even when you're not in, those mental reps are very important because a lot of the times, they'll get the same plays that we went through. It's really inexcusable to make the same mistake that a guy in front of you made. Just getting those mental reps and showing out on special teams is most of the advice I give to the younger players."
How tough is it to stop Jimmy Graham?
"With Jimmy, he's tall, fast and can catch the ball. There are a lot of times where you'll be in perfect position and you just can't stop him. Plus the fact that he has Drew Brees as a quarterback who can put it right where the defensive back can't get it. Sometimes you just have to live with some of those. He's a special player. He's really shown everybody what he's got last year and he's doing better this year. I think his route-running has been crisper. He's understanding defenses and his offense. I think the sky is the limit for Jimmy."
What about letting the success get to his head?
"He's a little bit more humble this year I think. Last year, he exploded on the scene and he did a lot of good things. This year, I think he knows what he's capable of and he's hungry to continue to get better. I'm really excited to see what he does this year."
Do you think he's more humble now because he expects to succeed?
"You're still going to see Jimmy get fired up. That's not going to change. That's just who he is and we love it. I think he's a lot more grounded as far as expecting to be great. He knows with Drew he can do whatever he wants pretty much. I think they'll be a huge connection this year.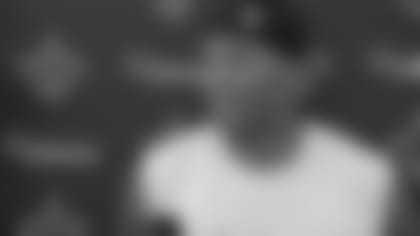 New Orleans Saints WR Nick Toon
Wednesday, August 1, 2012
Can you talk about how your day was today?
"It was a good day, still some corrections I can make though. My job is to catch the ball so whenever the ball comes my way, I'm going to do everything I can do to go out there and make a play."
How is it to play with a quarterback like Drew Brees?
"Drew (Brees) is a tremendous player. One of the best, if not the best, in the game right now. It's a blessing to have the opportunity to play with him. He's a great guy to learn from. It's been awesome."
Do you feel like you got two feet down in the corner of the end zone?
"I felt like I did. We'll see it on film. I know I got two feet down, it's just the matter if they were in the in zone or not. We'll see."
Do you think it is added pressure that your dad played in the league?
"That is a question that I get a lot. The way I always answer it, it feels normal to me. I don't know any different. This has always been my situation and the pressures that I feel have always been there. It just feels normal."
Can you talk about the wide receiver battle between you, Joe Morgan and Adrian Arrington?
"We're all great receivers. Not only those guys but the rest of the guys here. There is a lot of talent on the wide receiver position. When there are a lot of good players it elevates everyone game because you have to go out there and compete every day. You just have to go out there and make plays. That is what it is all about."
Jimmy Graham said that Drew Brees is really hard on him. Is he harder on Jimmy than he is on anyone else?
"I don't know. I cannot speak on his (Drew Brees) and Jimmy's relationship. Obviously, Drew is a great player. Otherwise he wouldn't have played as long has he's play and had as much success as he's had. I think that is one of the biggest reasons he has had so m much success. I don't think that you want anything else out of a quarterback or a coach or a teammate so I definitely think it is a good thing."
Is Drew Brees hard on you too or do you get a pass because you are a rookie?
"When you make a mistake it needs to get corrected and as a quarterback and as a coach that is what you do. To have success you have to be on the same page. When there is a mistake made or a miscue you get it corrected, you move forward and try not to let it happen again."
How anxious are you to play Sunday?
"Very. This is what we all do for a living. We love this game. It will be awesome to go out there and play in my first NFL game."
How prepared do you feel?
"I feel like I'm ready to play. Like I said earlier, I still have a lot to learn and some things I can clean up but I feel comfortable enough to go out there and play and make a play."
What are your expectations for the season?
"That is up to the coaches. My job is to come out and when the ball comes my way make a play, know what I'm doing, get lined up and help the team out in any way the coaches see fit."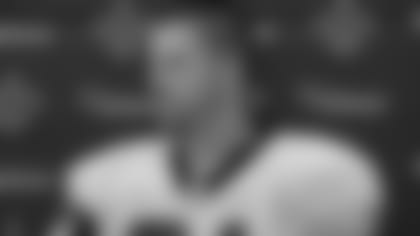 New Orleans Saints TE Michael Higgins
Wednesday, August 1, 2012
After a very strange off-season, you guys finally get to play in a preseason game. Is that going to be at all therapeutic to you guys, being able to be on the field together playing in the game for the first time?
"I think it will be good. With everything that happened in the off-season, everybody is excited to get back to football."
What are some things that you're looking to build upon from last season going into this year?
"Hopefully my role will expand with the team. It's really just about helping the team out anyway that you can. If that's on special teams, if that's on offense, wherever it may be, I just want to do whatever I can to help the team."
Is it challenging with all of the talent at the offensive skill positions, to really maximize your opportunity when the ball comes your way?
"You hit it on the head. This team has so many weapons offensively. You have to take advantage of every opportunity that you get and just try to make plays."
As a guy that came in as an undrafted free agent, how big are these preseason games? You made the most of it last year, hung around, and now you have a great opportunity to make this 53-man squad.
"Yeah. This is what it's all about right now: getting through camp and playing well in these preseason games and hopefully making the team. It's huge."
The team spent a few years early in the Payton era trying to solidify depth at the tight end position. It seems like a strength now. What do you think?
"I really like the guys we play with. I think obviously we have a lot of talent there and I'm excited about this year."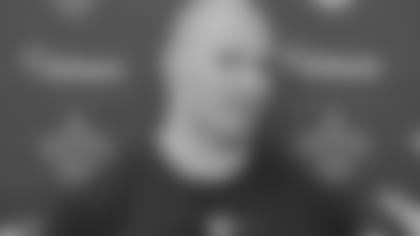 New Orleans Saints LB Scott Shanle
Wednesday, August 01, 2012
What have you seen from Junior Galette?
"Junior is one of those guys, that, as a veteran, you're amazed at the progress. His ability, his explosiveness, and as far where he has come with maturity. I think a lot of us veterans who have been here for a few years now have a lot of respect for him and I think he's going to be an even bigger contributor this year."
Was it always that you saw the athletic talent but you weren't sure about the maturity?
"A little bit when he first got here. Junior will be the first to tell you about us joking around. I think he takes a lot of pride in how far he's come, though. You know I see him teaching the young guys and it's always good to see a veteran with that roll flipped. It's been good to see him grow."
They keep reeling in players and you keep throwing them out, how do you feel being in that position?
"That's just the nature of the business. Some guys can do longer than others. Every year you have to start anew and you don't rest on what happened the previous year. That's what's exciting about the business, you know, every year you start fresh and it's the team's job to create competition and produce talent."
What's been the biggest adjustment from Greg (Williams) to Steve (Spagnuolo)?
"You know, just back to learning zone defense again. We were such much man to man pressure under Greg. Basic zone, drops, and basic zone fundamentals besides Cover 2, we didn't really run much under Greg."
So it's basically a conceptual thing?
"Yes, exactly. It's letting the routes develop, whereas we were leaving the huddle knowing who you're man was."
Do you feel Spag's defense is entirely installed now and you're just perfecting it? Or are you still learning it?
"I think we're close. Obviously with the way camp has changed, the installs take a little longer because you're not getting as many full speed reps. But, yea, I think we're close to being done. Obviously today was red zone and short yardage goal line but I'm pretty sure it's been installed and it's just repetition and understanding the little intricacies."
Is there anything unique about the way he teaches?
"The one thing is he's very hands on. You know when we're doing our individual drills he's out there helping everybody. This was the defense he was brought up in Philadelphia and it's something he really understands. He gets around the every position group and it's good that he's hands on like that."
You guys haven't played zone in so long, is everyone buying in? Does everyone understand why it makes sense?
"You know there were some things the last few years that we've had success but at the same time you put a lot of pressure on the corners playing so much, we have great corners that can do that. I think this is going to give us the opportunity to lay back and keep our eyes on the quarterback to make more plays and hopefully make more interceptions."
Scott, are you primarily being focused at strong side linebacker?
"Yea, so far throughout camp I've been strong side. Played strong side throughout OTAs and I had a little time to learn weak side but so far through training camp I've had strong side."
What do you think this game is going to mean for the team emotionally even though it doesn't actually mean anything in the standings?
"The team is very excited for a couple of reasons. One, it's actual game instead of a scrimmage with your own team. Another plus is, you know, you get to take the young guys to Canton, Ohio so they can see what it's all about. Obviously two players I'm familiar with Willie Roaf and Cortez, who's around here a lot, will be up there and we'll get to see them get inducted. Just to get back to playing football after what's gone on, I think it's a sanctuary for us."
How much has Chamberlain been of help since he already knew the scheme?
"Oh, he's been a huge help. It's a little different, but the biggest thing is learning the new language and learning a new defense. You know, Chris has been brought up in the system. He's like another coach out there. He's been a huge help all around."
Is practice the next couple days about getting game ready or still about learning and getting into this system?
"During the preseason your usually going to use these practices install your own stuff. You know, Saints versus Saints stuff. Maybe the day before we'll start looking at what the Arizona Cardinals have done a lot of. But usually throughout training camp, most teams try to perfect what they're installing and not worry too much about other teams."
What do you think about seeing the 2009 team on display at Canton?
"Yea, Joe is pretty excited to see it, he and all of us have heard from a lot of people that it's a pretty neat thing to see. He's excited about getting the team around it. For the players that were up there in 2007, there wasn't anything Saints related so a lot of things have changed since then. You got the display, Willie Roaf, and Ricky Jackson, obviously, there's going to be a lot to see."
Is it exciting to know that there are Saints players represented in there with Ricky Jackson and Willie Roaf? What are your thoughts on him?
"Willie is a great guy. He's a guy I've talked to quite a bit. When he comes back to Louisiana he lives right across the street. He's a great guy. You know, going back to 2007 we played the Pittsburgh Steelers and there wasn't anything Saints there. Now we're going back with the display, with the championship, and two great players now are up there too. So, it's funny to see how much has changed in five years. But it's also encouraging."
It's just too bad Sean can't be up there with the team, any thoughts on that?
"Yea, it's tough when we do things like this. The first big thing was the unveiling of the statue for Steve Gleason. It's something that popped into my mind that it was a shame that Coach Payton couldn't be there. Coach Payton was a big part of Steve's life, and Steve has been a big part of Coach Payton's life. That's something that they'll never get to redo over. But I'm sure Coach Payton read about it somewhere. We just kind of have to deal with the hand we've been dealt."