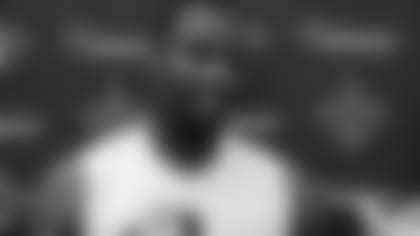 New Orleans Saints S Malcolm Jenkins
We didn't get your reaction to the story last night about Jonathan Vilma potentially returning. Can you talk about what that would mean to the team?
"It would be huge. It's sort of early news and nobody really knows the validity of it, but the thought of having him back would be huge for us. He's such a huge part of what we do and what we've built. He's one of the guys who's established what we've done here. Even the thought of getting him back is exciting for us and I really hope that this thing works out in his favor, because we all have his back 100 percent. We support (him)."
How much of a difference do you think he can still make?
"A huge difference. He's the heart and soul of our defense. The sooner he can get back, the more of an impact he can make. I think obviously right now, he's missing time as far as getting the install and the playbook (but) Jonathan Vilma's still a great player. He's proven that year in and year out with his performance. We're definitely excited about the thought of having him back."
Coach Vitt said it would still be an easy transition to get him back into the rotation. Do you agree?
"I think so too. I think it brings competition, whenever you have some depth, you can bring in Jonathan Vilma and have Curtis Lofton too, as well as the other guys competing for us at different linebacker jobs. It just makes our team better. That's a good problem to have."
How often do you communicate with him?
"I actually talked to him early last week. I don't talk to him enough and as much as I need to with us being in training camp. I know he itches to get back and he's in good spirits and anxious for everything to play out and let everything run its course."
Are you excited for the opportunity to face Tom Brady this week?
"Yes, I think it's going to be a really good week for our defense, just to get some different looks and you really go again to the quarterback with his talent, tight ends and receivers, I think it will be good for us because we're still young as far as putting in a new defense and going up against Drew every day is a big challenge. To be able to get up in there in practice with them is really going to be good for us, to get some looks and go over some things including scrimmaging with them on Thursday."
How do you feel about your progress in the new defense so far as well as what is left to continue to improve on?
"We still need to get our run fits and make sure everybody's still in the same gap and just tackling. I think every year in the preseason, that's the number one thing, just tackling. Everybody's a little rusty coming off the offseason and the quicker you can get back to being a secure defense that tackles well, everything else can be corrected."
Was your pick, the example of the new Steve Spagnuolo scheme you're learning? Is this the 2010 Malcolm Jenkins?
"I think that was just more of a bad play on (Kevin) Kolb's (part). I think we may be confused him a little bit with some looks. That's not a ball you get thrown too often. The call was a defense we transitioned over from last year. Usually Roman is in that position. We're moving some things around. We're really excited about what Spags is doing and I'm really having some fun in that defense, getting a lot closer to the ball, getting my eyes on the football. It gives you a lot more opportunities to get interceptions, like the tipped balls and overthrows. I think right now, we're keeping it simple. All the plays are base calls. As we get into the season, we'll really get elaborate with it. The things we do in practice, we have a lot of fun with.
What will it be like to have your defense tested in an unusual way because of New England's bevy of slot receivers and two tight end sets?
"Those are some of the challenging things. They challenge us with the run and to go against some dynamic tight ends that presents another problem. To practice with them is a big thing. That's what I'm looking forward to, because I know they're going to get some plays on us and they're going to give us some problems that we're going to have to go back to the drawing board to fix. You get to see where the weaknesses are in a defense and you can correct those early. It will be a good test for us now. Something that we need and we're looking forward to competing."
What are your impressions of Rob Gronkowski? You have a great tight end on your team. Is seems like those guys are the top two?
"When we got here two years ago with (Aaron) Hernandez and Gronknowski, our jaws were dropping, especially with Hernandez. He's very, very shifty, his routes are good. Gronkowski there wasn't really much about him that caught your eye, but once you turned on the tape that season and what he did especially last season, I think he presents a problem, just like Jimmy (Graham), where there are certain things you can't cover. He's so big and the quarterback gets him the football and there's really nothing you can do about it. Anytime you have a quarterback like a (Drew) Brees or a Brady who puts it away from a defender, you can coach all the things in the world, but it's hard to stop those things."
Do you think people have trouble understanding that sometimes?
"They do it against everybody. You're talking about guys that are bigger than everybody, guys that are not faster, but can run for their size and can catch the football. Once you add the equation of a quarterback who can put it where he needs it to be to give them the best chance, it's a big disadvantage to the defender."
New Orleans Saints TE David Thomas
How did your return to game action go?
"It felt good to get on the field and get some reps. It felt good to go score on the first drive. I thought we made progress. We have some stuff to learn from, but it's a step in the right direction."
Were there any personal butterflies for you?
"No, it all came back naturally. As football players that's what we do."
Can you talk about the tight ends on the other team?
"I think they're two of the best tight ends in the NFL. They do a great job of maximizing their versatility. They line up all over the field and do a lot of good things for their offense. It will be good to see some other tight ends on the field."
What are some of the things you talked about on the sidelines to offensively improve on or did you get enough work to see it through?
"We didn't get a ton of work. It felt good to go down and score on the first drive like we did. I think we can always improve our tempo, getting in and out of the huddle and we haven't watched film yet, so we'll see what it shows. But we had a good start and it's something to build on."
Do you have a checklist for what you want to accomplish in Boston?
"It will be good to go against some other guys across from you and this is a good football team, a good organization. I'm excited to get back on the field against those guys and it's a good opportunity for us."
New Orleans Saints QB Chase Daniel
You probably ran a little bit more than your personally wanted to last night, but I guess when you're in there with second and third team offensive linemen you kind of some in there expecting to run.
"You don't really expect to have to run. You have faith in your o-line and I think they did a really good job. There were some times, and haven't watched all the film, but there were some times when they got out a little bit too early, but we were able to make some plays outside of the pocket and our receivers worked the scramble drill really well yesterday. I thought our running backs did a really good job of checking down and making themselves available for me."
Were you guys a little disappointed you didn't put that game away yesterday? It seemed like the interception in the end zone kept them game open.
"I think so. Anytime you're on first or second down on the four-yard line going in, you don't want to throw an interception. The guy made a great play. It was a bad throw. I'd like to have that one back. I felt pretty good about how I played. We got one of their red zone interceptions, so we kind of flip-flopped. It ended up for the better, but definitely in the red area, we talk about it all the time, no turnovers."
What are the things you want to improve on from game one to game two?
"I think just getting our tempo in and out of the huddles. It was sort of hard with the new refs and the TV timeouts that we had to really get in the rhythm and get into tempo on the offensive side of the football especially when there are three hashes drawn up. They were having a little bit of trouble trying to place it on the right hash. We're excited to play in an NFL venue again, play against a great team in the Patriots and really get our tempo a lot better than it was."
You and Travaris Cadet seemed to have good chemistry last night. What were your thoughts on him?
"I think he played an excellent game for his first NFL game. He was jacked after his touchdown catch. He hopped probably about ten feet in the air. It was awesome for him. What I was really impressed with him was in nickel protections. He did an excellent job picking up some blitzes that we really didn't expect from the Cardinals, but it was good for him especially to know that he can play on third downs and he can handle the protections. He's a smart guy. The stuff he's done in the open field with the ball in his hands all throughout camp, I think some people saw that last night."
When you watch the Patriots offense, what do you like about them?
"I think (Tom) Brady is one of the best to ever play the game. Just from his aspect and his point of view, just seeing the field. How he sees the field, how cool, calm and collected he is in the pocket, I think there's a lot you can take away from that. I'm excited to practice against them. I know we did in 2010 when I was here for the first time. I'm excited to practice against them and see how their tempo is. You always sort of try to compare yourselves to other great teams in the league, and I think this will be a good team to be compared with."
Are the Patriots different from your offense with how they use the two tight ends so much?
"They have (Aaron) Hernandez and (Rob) Gronkowski. I think those two guys do an excellent job. I think we mix up our personnel a little bit more than they do and we have more shifts and motiosn and formations than they might. But they do a heck of a job getting the ball down the field and getting the ball to their playmakers in (Wes) Welker and all those guys we were just talking about."
Why is tempo so important?
"I think tempo offensively is how an offense blitzes the defense. It's really tough for the defense to change personnel when we're changing personnel in and out of the huddle, they don't know what we're doing. We don't signal personnel. It's all through me and I tell them and they get in and out. These guys start to get winded if we're upping the ball every 25 or 30 seconds and not using the whole 40 seconds running a play in and out of the huddle, up and down. That's what Coach (Pete) Carmichael and Coach (Joe) Vitt always say. With Coach Vitt being a defensive coach, he says it is tough to sustain after you get that first and second first down on drives, you're looking at six, seven, eight and nine play drives that just wear the defense down. The more you can have of those, the more worn down they're going to get throughout the game."
With the matchup between the two best tight ends in the league with Rob Gronkowski and Jimmy Graham going on Thursday night, is that a product of their personal ability or is the tight end position evolving in the game today?
"You look at those guys separately and both of them can jump out of the gym, they can go up and make plays, they're fast and athletic, but I think also that this league is moving more towards an athletic tight end – one that can block but can also go make plays down the field."
New Orleans Saints CB Johnny Patrick
How do you feel you did as a starting cornerback last night?
"I felt like I did pretty well. I didn't get as many snaps as I wanted to, but overall as a defense I thought we did pretty well last night."
Have they given you any indication about the status of Patrick Robinson for Thursday?
"I'm not sure about those guys. Right now I'm looking forward to going in at the same rotation."
What are you looking to get the next few days against the Patriots?
"Get some work. We get to practice against these guys for the next two days before we play them. They're a great football team. We play against another great quarterback (Tom Brady) other than going against Drew every day, so it's going to be a great test for us."
How difficult is it to assimilate a new defense when you don't have as many practices under the new training camp regulations?
"It's difficult and frustrating, but I think as a unit, we've put it up pretty fast and I think those first two drives against the ones at Arizona, we did pretty well. I feel like we're at a point right now where we're getting better but have a long ways to go."
How do you prepare to go up against a guy like a Tom Brady?
"Just how I prepare to go up against Drew Brees every day. We do it every day. He's a great quarterback. I've been watching (him) all these years. I'm excited to go against him."