As we approach the 2022 NFL Draft on April 28-30, NewOrleansSaints.com takes a look at the history of their overall pick positions and the players it brought into the league. The Saints will have picks in Round 1 (16th and 19th overall), Round 2 (49th), Round 3 (98th), Round 4 (120th), Round 5 (161st), and Round 6 (194th).
Over the past 10 drafts, running back has been the most common position taken at No. 194 with three. Second most selected position is defensive tackle with two. The Saints have not selected at 194 in the last 10 years.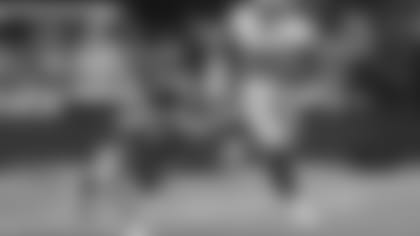 YEAR-BY-YEAR BREAKDOWN OF 194TH PICK:
2021: San Francisco 49ers, RB – Elijah Mitchell, Louisiana-Lafayette
2020: Tampa Bay Buccaneers, DT – Khalil Davis, Nebraska (Super Bowl champion)
2019: Green Bay Packers, RB – Dexter Williams, Notre Dame
2018: Atlanta Falcons, WR – Russell Gage, LSU
2017: Miami Dolphins, DT – Vincent Taylor, Oklahoma State
2016: Las Vegas Raiders, LB – Cory James, Colorado State
2015: Buffalo Bills, TE – Nick O'Leary, Florida State
2014: Baltimore Ravens, QB – Keith Wenning, Ball State
2013: Seattle Seahawks, RB – Spencer Ware, LSU (2x Super Bowl champion)
2012: Philadelphia Eagles, WR - Marvin McNutt, Iowa
Local talent at 194
Over the last 10 drafts, pick No. 194 has seen someone from a Louisiana school selected three times. In 2013, LSU running back Spencer Ware was selected at 194. Ware played five seasons in the NFL, four of them were with Kansas City. During his career he had 357 rushes for 1,631 yards and 88 touchdowns. He also has 64 receptions for 698 yards. He was crowned Super Bowl champion twice during his career. In 2018, LSU receiver Russell Gage was selected with the 194th pick by the Atlanta Falcons. In his four seasons so far, he has hauled in 193 catches for 2,065 yards and nine touchdowns. Last season, Elijah Mitchell from Louisiana-Lafayette was taken 194th. In his rookie year, he had 207 rushes for 963 yards and five touchdowns.