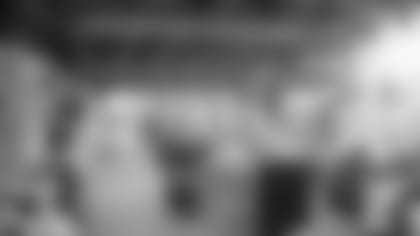 New Orleans---The New Orleans Saints announced today the completion of a new-and-improved New Orleans Saints Team Shop located at Gate B on the Plaza Level of the Louisiana Superdome. The new Saints Team Shop features 6,000-square feet of retail space dedicated to featuring the most-up-to-date officially licensed Super Bowl XLIV Championship New Orleans Saints fashions and accessories.
The New Orleans Saints Team Shop is open from 10:00 a.m. until 5:00 p.m. on Mondays through Fridays, 11:00 a.m. until 3:00 p.m. on Saturdays, as well as on Sunday's during the football season. Hours will also be extended to coincide with all Saints games at the Superdome during the 2010 season.
"The demand for officially licensed New Orleans Saints merchandise and World Champion memorabilia has never been greater," said Saints' Executive Vice President Rita Benson LeBlanc. "We are thrilled to be able to offer fans of the Saints a first-class retail outlet that makes shopping an exciting and enjoyable experience and allows them a multitude of different options regardless of what they are seeking to purchase. The New Orleans Saints Team Shop celebrates the team's success and allows our fans the ability to choose from a large range of the latest fashions and memorabilia."
Among the many items that are currently on sale at the New Orleans Saints Team Shop at the Superdome are the latest "officially licensed sideline styles from Reebok," which includes training camp tee-shirts and caps, as well as the same items that Saints players and coaches wear on the sidelines throughout the season. In addition, special sections featuring team memorabilia is also available for purchase.
The New Orleans Saints Team Shop is the only officially licensed outlet in the United States and fans that visit the new retail space will find the space to be five times larger than the previous Team Store, replete with a state-of-the-art audio/visual system and displays that celebrate the World Champion New Orleans Saints.
Fans that visit the New Orleans Saints Team Shop will experience an ease of shopping not previously experienced before. items ranging from Youth Apparel, Youth Jerseys, Youth Headwear, all the way through a special section featuring Big & Tall items, to the latest fashions in polo shirts, officially licensed jerseys, sideline items, a Holiday Collection section, as well as the most recent offerings of shirts, hats, visors, jackets, sweats, fleece tops and bottoms, sweaters, collectible and customized jerseys in all sizes are now available at the New Orleans Saints Team Shop.
The New Orleans Saints Team Shop is also proudly currently featuring exclusive items by renowned artist Charles Fazzino, as well as special commemorative field turf displays from Sun Life Stadium, the site of the Saints' Super Bowl XLIV Championship victory over the Indianapolis Colts.