It was Jan. 13, 2010, the Wednesday before the NFC Divisional playoff game between the New Orleans Saints and Arizona Cardinals.
LB Jonathan Vilma was heading home from practice when he received a calming phone call.
"The family is safe," Vilma's parents told him on the phone.
Earlier that week, a massive earthquake struck Haiti, Vilma's native country, causing catastrophic damage and killing more than 230,000 people.
None of Vilma's family members were injured in the quake. He has 10 plus family members that live in Haiti, including his two grandmothers, two aunts and an uncle.
Despite his family's safety, the massive natural disaster hit Vilma hard. He wanted to help immediately but he was 1,300 plus miles away and the Saints were about to start their playoff run as the NFC's No. 1 seed. His parents encouraged him to keep his focus on football for the time being.
"It was during the playoffs and my family urged me to not get involved and stay focused on the season," said Vilma. "It turned out to be a good thing because I was able to just sit back and think about what I wanted to plan and not rush into something."
Vilma did participate in a public service announcement to help raise funds for victims that aired during the NFL's conference championship games.
Shortly after the Saints won the Super Bowl, Vilma established the Jonathan Vilma Foundation to support the building of a charter school in Haiti to educate students from kindergarten through high school.
Of the thousands of people that were killed by the earthquake, 40,000 were students and 1,000 were teachers and more than 50 schools were destroyed by the natural disaster.
"I believe education is the key," said Vilma "Right after the earthquake hit, I saw the short-term efforts of donating money to the Red Cross and other organizations and that is good but I wanted to do something that would have a long-term impact. A couple weeks after the earthquake hit, it wasn't in the news anymore and everybody kind of forgot about it. I wanted to keep the support going. I wanted to make sure whatever I did was for the long term and I feel like education is the best way to do that."
In May 2011, Vilma's Foundation made a $50,000 grant for the Artists for Peace and Justice school in Haiti.
This past April, Vilma visited the school because he wanted to see for himself the progress the school was making and that things were running as he hoped.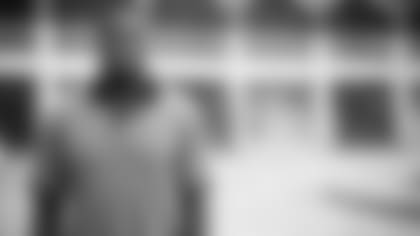 "I went and literally made sure everything was setup and working like they said it was," said Vilma "I take that very seriously because if you are generous enough to donate to my foundation to help these kids, I want to make sure things are running well."
During the season Vilma will get periodical updates from his family and staff members of GivingBack.org, which helps run his foundation, on the school. He recently learned that the Haitian government passed a bill for free transportation for kids in school. Now all students can bus to school for free.
The school, the Artists for Peace and Justice, has no reference to Vilma at the school or that his foundation is the one that established it and that's exactly how the Saints captain wants it.
"This is not Jonathan Vilma's school," said Vilma. "This is a normal school that functions and competes with the rest of the world. That's all I want. That's all I care about. There is no sense in making the school about me because it's not."
Most of the funding for the schools comes from Vilma's annual "celebrity server" event in New Orleans. He has hosted one the past two years and will host the third on Dec. 10. The first two dinners raised more than $200,000 for Vilma's foundation.
"We are hoping for a big turnout at this year's event," said Vilma. "There will be great food and drinks and fans are able to be served by their favorite Saints players all for a good cause."
Vilma's Third Annual Celebrity Servers Dinner will be held on Monday, Dec. 10 at Morton's The Steakhouse in New Orleans.
To reserve tickets, click here. For more information about the celebrity server event, call 504-566-0221.