Join Morton's The Steakhouse in New Orleans for its second annual celebrity server event, Monday, Nov. 7 at 6 p.m., featuring Jonathan Vilma and his New Orleans Saints' teammates. Guests can enjoy four courses of Morton's signature cuisine and fine wine served by their favorite Saints players.
Proceeds from the event will benefit The Jonathan Vilma Foundation. The New Orleans Saints linebacker plans to use the earnings to help build a charter school in Haiti following the massive earthquake that struck last year.
"We enjoyed great success with the event last year, raising $190,000 with more than 200 guests in attendance," said Vedran Komazec, general manager at Morton's The Steakhouse in New Orleans. "We look forward to teaming up with Jonathan and his Saints' teammates once again for what is sure to be an entertaining evening and a win for all involved."
Last years's event, helped open the Academy for Peace and Justice in Haiti last week. The school hosts 754 students and three grades. Currently, the school has 60 full and part-time teachers on staff and 12 staff members, cooks, administrators and maintenance. Check out a bird's eye view of the school below: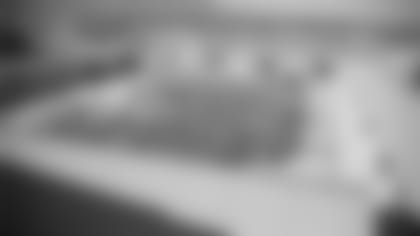 Tickets are $400 per guest and include a VIP cocktail reception with the New Orleans Saints, celebrity servers and an exciting auction.
For more information and to make a reservation, please contact Kim Trouard at (504) 566-0221 or kim_trouard@mortons.com, or log on to Mortons.com. 
Morton's The Steakhouse in New Orleans is located at 365 Canal Street. Dinner is served from 5:30 p.m. until 11 p.m. Monday through Saturday and 5 p.m. until 10 p.m. on Sundays.
The Jonathan Vilma Foundation
New Orleans Saints defensive linebacker Jonathan Vilma established The Jonathan Vilma Foundation to support the building of a charter school in Haiti to educate students from kindergarten through high school. In 2010, a devastating 7.0 earthquake struck the region killing more than 230,000 people of which 40,000 were students and 1,000 were teachers. More than 50 schools were destroyed. Jonathan's parents immigrated from Haiti and family members remain in the country. Jonathan is deeply committed to assisting in the long-term rebuilding efforts.
About Morton's
Morton's Restaurant Group, Inc. is the world's largest operator of company owned upscale steakhouses. Morton's steakhouses have remained true to its founders' original vision of combining generous portions of high quality food prepared to exacting standards with exceptional service in an enjoyable dining environment.
The Company owns and operates 77 Morton's steakhouses located in 64 cities in 26 states, and in Puerto Rico and six international locations (Toronto, Singapore, Hong Kong, Macau, Shanghai and Mexico City), as well as Trevi, a Las Vegas Italian restaurant.