I didn't major in English or journalism so please forgive my 'blogging' skills.
Tuesday was just another day at the office. But for Saints fans this day couldn't come soon enough. Saints fans are the best and most loyal fans in the world. I showed up to the facility at 8 am (more than two hours before practice begins) and there was already a line of fans waiting to get on the practice field. Mind you, it was probably already 85 degrees and felt like 100 percent humidity - That is dedication!
With all that has happened this offseason, our fans were ready and waiting to get their first look at this 2012 New Orleans Saint team.
There are many new faces for fans to familiarize themselves with. Free Agency brought in linebackers Curtis Lofton, Chris Chamberlain and David Hawthorne, defensive tackle Brodrick Bunkley, and offensive guard Ben Grubbs among others.
Our fans also had the chance to see our drafted rookies for the first time - DT Akiem Hicks, WR Nick Toon, DB Corey White, G Andrew Tiller and OT Marcel Jones.
These OTA and mini-camp practices are different from training camp because we can only have helmets on. There are no leg or shoulder pads allowed which makes a difference in how the team practices.
There is little to no contact so this is a time for the guys to learn their plays and mentally understand what they are supposed to be doing.
A big focus is put on keeping a high tempo throughout the entire practice.
This also helps guys get in great condition for the upcoming training camp and regular season.
As fan favorites like Jimmy Graham, Darren Sproles, Lance Moore, Pierre Thomas, Zach Strief, Jermon Bushrod, Malcolm Jenkins and Roman Harper made their way onto the field Tuesday you could hear fans erupt in cheers.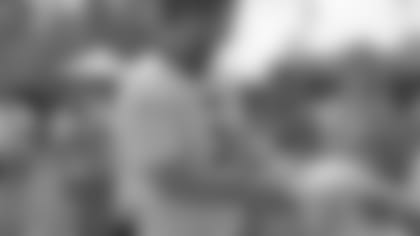 It's great to see the enthusiasm from our fans, because all the guys truly appreciate the love.
Personally, having our fans out at practice is great for me. It builds confidence to perform well in front of a crowd. It also gives the entire team an opportunity to meet our fans, sign autographs and take pictures. Going into my fourth year here in New Orleans I have come to realize that having a close relationship with the people in this city is one of the things that makes this team what it is.
Don't forget, I will be writing a blog for all three days of mini-camp so make sure to check in daily.
Thomas "The Leg" Morstead
Continue to follow Morstead on his social media outlets: