Christmas is traditionally a time for families to come together prior to the start of a new year.
For a child, it's a special experience of presents and holiday cheer.
RB Mark Ingram understands as exciting as the holiday season is, it can be difficult for children that are in the same shoes he is in.
Ingram's father, Mark Ingram Sr., is currently serving time at a federal prison in Ashland, Ky. Ingram has always been very close with his father and to not be with him for Christmas is challenging but he understands the situation.
New Orleans Saints fans quickly learned how much Ingram's father means to him.
It was April 28, 2011 and the Saints had just traded back into the first round of the NFL Draft with the New England Patriots to draft Ingram. After the selection was made, Ingram did a live interview with ESPN's Suzy Kolber. Kolber had received an email from Ingram's father that he sent to her from prison that he wanted her to read to his son after he was selected.
As Kolber read the email, Ingram's eyes began to water up.
"I am so proud of the young man you have become," the email ended.
Ingram turned away and pulled the brim of his new Saints hat down. After hearing the email, it had hit him what a special moment this was for him. He had accomplished his longtime goal of reaching the NFL like his father did, and he was selected with the same pick as his father – 28th overall.
Ingram looked into the camera to deliver a message to his father.
"I want to tell my dad that I love him…I miss you dog," an emotional Ingram stated. "You have been a positive influence on me my entire life. I want to thank you and let you know that I love you. We did it."
That's what it's always been about for Ingram – "we." His father has as much to do with his success as anybody. Despite his father not being in attendance at the draft, the email made Ingram feel like he was there.
"I heard my name being called and took the picture with my family and all that and then when she read that letter from my father it really got to me," said Ingram. "To hear how proud of me he was, and even though he wasn't there I felt his presence."
Understanding the challenges of being a child of an incarcerated parent, Ingram started the Mark Ingram Foundation to help children in his situation, particularly during the holiday season.
Ingram has hosted a shopping spree each of the past two years at Academy Sports and Outdoors in New Orleans through his foundation. Ingram and other Saints players bring children of incarcerated parents to the store and Ingram gives each child a gift card so they can pick out a number of Christmas presents.   
"It can be rough at times when you have a parent away, but especially around the holidays," said Ingram. "That's when you spend a lot of time with family and getting gifts from your parents. I just have one parent that is incarcerated and I know of some kids that have both so I want to help. I want the kids to know that there are people that care about them and want to be there for them."
Ingram said he hopes to expand his foundation to have more events throughout the year. The Christmas shopping spree is just the first step to the big picture of where he sees the foundation going.
Earlier this month, Ingram was honored for his efforts to help children when his teammates voted him as the 2012 recipient of the team's Ed Block Courage Award.  
The Ed Block Courage Award Foundation is dedicated to improving the lives of neglected children and ending the cycle of abuse.  
Ingram will be honored, along with recipients of the other 31 NFL teams, at the Ed Block Courage Award ceremony in Baltimore, Maryland in 2013.
No one on the Saints team knows Ingram as well as DE Cameron Jordan. The Saints selected Jordan four spots ahead of Ingram in the draft and their lockers are right next to each other.
"When we got drafted, there was the lockout so he was the only teammate I really knew," said Jordan. "I am in awe in how well he has kept on the right path and how he was able to reach his goal of the NFL. It's kudos to his family and especially his mom because I know how much my mom did for me so I can only imagine how much his mom did for him. I have gotten to know their family and it's great to see how they stick together and help each other."
Along with Ingram's father, Jordan's dad also played in the NFL.
Mark Ingram Sr. played 10 seasons in the NFL with the Giants, Dolphins, Packers and Eagles. He was part of the Giants' Super Bowl XXV championship team.
Steve Jordan played 13 seasons for the Vikings, where he was a six-time Pro Bowl selection.  
Understanding the path Ingram took to get to the NFL, Jordan is more impressed with how much his draft partner has accomplished.
"I don't know where I would be if I didn't have my dad there through everything," said Jordan. "My dad has been everywhere I have been and done everything I have done so I have always been able to rely on him. I don't know how much contact Mark has with his father but that has to be very hard."
Despite the circumstances, Ingram and his father still remain close. The two will talk three to four times a week. They discuss everything from football, family life and how each other's day went.
"My father is my biggest critic and my No. 1 fan," said Ingram. "He is quick to compliment me but also points things out if he sees something I can work on. He wants me to improve and be the best I can be. We have a special bond."
Ingram never saw his father's situation as a reason to limit his opportunities. Ingram says his father has been his best friend and biggest supporter during his career.
Statistics show that a child is more likely to spend time in jail if one of their parents is incarcerated. Ingram is fighting to limit those numbers through his foundation.  
Ingram is a BCS Champion, a Heisman Trophy winner and a first round NFL draft pick. He is using those accolades as a platform to demonstrate to kids in his situation that they don't have to "fall into the statistics."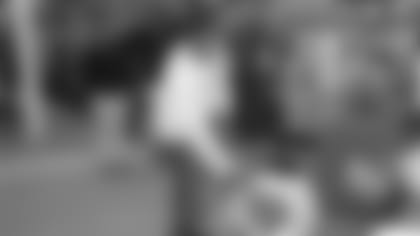 "I want to show them they can grow up to live a successful life," said Ingram. "They can grow up to be a good person. They can still set their goals high and reach them. I try to fill the void the best I can during special times like the holidays. You want to be there to make them smile and give them a hug – that's what it's all about during the holidays."
A quote any parent would be proud to hear.