Saints Executive Vice President/General Manager Mickey Loomis joined Adam Schein and Rich Gannon on Sirius NFL Radio's "The SIRIUS Blitz" show Thursday Morning. He discussed Schein ranking the Saints as the No. 2 organization in the NFL, how his staff is handling this offseason, RB Reggie Bush and the player-run organized workouts.
On the NFL and NFLPA meeting Thursday morning in Chicago:
"I didn't know anything about it until the news broke (Thursday) morning. I think anytime that you are talking that is good news. Hopefully something positive came out of that meeting. I know that going through the courts is never a positive thing. If we get the two principal groups sitting down together then that is certainly good news."
On how concerned he is about his rookie class not being able to work with the team right now:
"We are all on equal footing there so there is not a competitive advantage or disadvantage to any of these rookies and what they are able or not able to do.
"I do think this. I hear a lot of talk about the offseason and the offseason programs. I am on the side of thinking they are really important and that the work you do in the offseason is critical and important to every organization. Yet, sometimes I hear that the offseason is not that important and some say they want it reduced or want it limited but I think we have a pretty good product. Part of that is the offseason work that gets done. We will see this season how critical and important that offseason is to not only the rookies but second and third-year players."
On RB Reggie Bush's future with the Saints:
"I don't know the answer to that. When we are able to, we will have some discussions with Reggie. He is currently on our roster and I fully expect him and want him to continue to be on our roster – we all do. In terms of how that plays out with the situation with his contract, we will just have to wait and see after this labor issue gets resolved. He has been an important contributor to our team and our success over the last five years. I think he can continue to be important to us going forward."
On how challenging evaluating players will be this season could be if training camp is shortened:
"I don't know the answer to that because right now we haven't missed any training camp time. That is the period of evaluation. I think the offseason is less about evaluation and more about a teaching forum. I think the evaluations happen during training camp and the preseason. I don't know if those are going to be impacted yet, we will see.
"I know that often times it is pretty evident when a young player comes in and you see that he has the ability to play in the NFL. I think that will still be evident. We will get those questions sorted out."
On what he believes helped put the Saints as one of the "model franchises" in the NFL:
"First of all, I think it starts with ownership. Our owner Tom Benson often gets undersold by the media and general national opinion about our franchise. He has done everything that I as a general manager or Sean (Payton) as a head coach could ask for in giving us the opportunity to be successful. A lot of his contributions to our organization go under the radar. The things that he did for our staff during Katrina was way beyond what any of us would have expected. I think that No. 1 it starts there."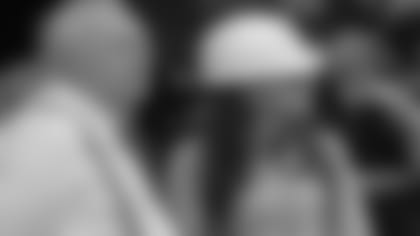 On being ranked No. 2 in FoxSports.com's NFL Organization Rankings:
"It is nice to be ranked high and we certainly appreciate that but I kind of take that with the same grain of salt being ranked really low in 2004 and 2005. I know what our organization can do. I know the people that we have in our building. I am really confident about their abilities. I think you have to take rankings and other people's opinions a little bit with a grain of salt but I do believe we have a great organization. It starts with our owner, our head coach, our quarterback and filters on down to our coaching staff.
"That coaching staff that has guys like Joe Vitt, who I think is one of the best assistant coaches of all time. Gregg Williams, his credentials as a defensive coordinator speak for themselves. We have a great CFO (Dennis Lauscha) and a great Public Relations Director, Greg Bensel, who I think is one of the top guys in the business."
On the Saints coaching staff:
"They are critically important. I could go down the list with every guy. Our Defensive Line Coach Bill Johnson is well respected around the NFL and gets the most out of his players. Aaron Kromer (offensive line/running game coach) who is really an up-and-coming assistant coach in our league. I think he has all the qualities to be a head coach. We just lost Dennis Allen who was our defensive backs coach to Denver who is now their defensive coordinator. We have a number of other coaches. Curtis Johnson, who is wonderful and maybe the best wide receivers coach I have ever been around. I could go all the way through our staff. There just isn't anyone that I would say is a weakness or lacks ability.
"One of the things that I think is really important with your coaching staff is the chemistry they have together. We have great chemistry on our staff. Pete Carmichael, our offensive coordinator, is a critical part of our organization. His relationship with Drew (Brees) has been critical to our success. I couldn't be more pleased with how they interact with each other but also our personnel department."
On if the success Head Coach Sean Payton has had during his first five years is what he expected:
"Absolutely, from the first moment I met him. I just saw a quality that I thought was really special. I was told by a number of other people that he had a special quality and I certainly could see that immediately."
On how encouraged he is with the media reports about the strong turnout at the Saints player-organized workouts at Tulane:
"I wish I could watch them (laughter) but I can't just stumble over there. The Athletic Director there, Rick Dickson, is a great friend of mine who I have known for a long time. I certainly appreciate that (Tulane) has accommodated the players. We are probably spoiled to a large degree because that is what our expectation was. Our expectation was that Drew Brees, Jonathan Vilma and Will Smith and a number of the other leaders on our team would take the bull by the horns and would have our team prepared. I guess what I am encouraged by more than anything else from what I read is that they have had a high-degree of participation, particularly of the younger guys and that is encouraging."