The New Orleans Saints announced Monday that linebacker Scott Fujita has signed a one-day contract with the team and will announce his retirement from professional football. The announcement was made by Saints' Executive Vice President/General Manager Mickey Loomis.
"I've been fortunate to play in this league for a long time and for some great organizations, but there is no doubt that my times spent in New Orleans were some of the best years of my life," Fujita said. "The way the team and the community embraced us when we first arrived, and the way they continue to do so, even today, shows how deep this connection is. I'm honored to be a part of this organization and so proud to retire as a New Orleans Saint."
Fujita, 33, signed his contract provided to him by the Saints in Machu Picchu, located in the Andes Mountains in the Urubamba Valley in Peru, South America. He is accompanying former New Orleans Saints teammate Steve Gleason on an adventure of the fabled Inca tribe in the South American mountains. Gleason, the founder of Team Gleason, is leading a valiant battle against ALS and raising awareness while continuing to forge forward on memorable experiences despite physical limitations.
"What better place to reach the end of the road than here at 10,000 feet above sea level, in the Peruvian Andes overlooking Machu Picchu with my dear friend Steve Gleason?"
Fujita, an 11-year veteran of play in the National Football League, was signed by the New Orleans Saints in 2006 as an unrestricted free agent and played for the Saints through the 2009 season. As a member of the Black-and-Gold, Fujita helped guide the Saints to the team's first-ever Super Bowl title, a 31-17 victory over the Indianapolis Colts in Super Bowl XLIV.
Fujita, a native of Ventura, California, played his collegiate football at the University of California and entered the NFL as a fifth-round draft selection (143rd overall) of the Kansas City Chiefs in 2002. He played with the Chiefs for three seasons (2002-2004) before moving onto the Dallas Cowboys in 2005. In 2006, Fujita followed then rookie Head Coach Sean Payton from the Cowboys to the Saints as an unrestricted free agent. In 2006, Fujita helped to guide the Saints to their first-ever appearance in the NFC Championship game, a contest the Saints dropped at Chicago yet proved to pave the way for future successes.
In 2009, Fujita was a cornerstone for the Saints as they captured their second division title in four seasons and advanced to the NFC title in an overtime game against the Brett Favre led Minnesota Vikings in the Saints' home field, the Mercedes-Benz Superdome, and advanced to Super Bowl XLIV against the Colts.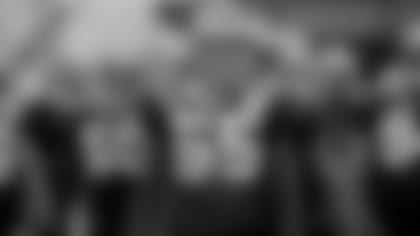 "I'm really excited that Scott has chosen to sign and retire as a New Orleans Saint," said Executive Vice President/General Manager Mickey Loomis. "He was the first player acquisition that we made in 2006 once Sean Payton came on board. It was an important acquisition for us, getting a player of his caliber to come to New Orleans despite the conditions (post Hurricane Katrina) for a number of reasons because he saw an opportunity to become involved in the rebuilding of the city, yet quickly realized how important the team was to that effort."
"On the playing field, he made a lot of huge plays yet always remained tremendously consistent. He was fantastic and always seemed to make big plays in the biggest games."
"I thought that Scott, as much as anyone, became a New Orleanian. He developed a love for our city and the city developed a love for him. He was always going to be welcome here at the Saints but his desire to sign and retire as a member of the Saints illustrates what he thinks of our organization and the fans of this team."
"He was the first free agent that we signed in 2006 and was a major part of what we've built and continue to build here in New Orleans," said Payton. "He was a cornerstone of the foundation that we've built and we won a World Championship together. It's been said that when you win a championship together, you walk together for the rest of your lives and that's certainly appropriate to celebrate on a day like today."
"His dedication to Steve Gleason illustrates what type of friend, teammate and person he is and how valued his friendship is to those of us that have spent time around him."
Fujita signed with the Cleveland Browns in 2010 as an unrestricted free agency and played three seasons with the team before today's announcement. During his career, he played in 143 regular season contests, amassing 917 tackles (617 solo) along with 23.5 sacks, 11 forced fumbles, seven interception returns for 65 yards, and three fumble recoveries. In the postseason during his career, Fujita played in six games, notching 36 tackles (26 solo) and one fumble recovery.
Fujita has also made a dynamic contribution to a plethora of community-based organizations and civic causes throughout his career, ranging from marriage equality to Gulf Coast restoration to Athlete Ally, an organization that serves as a sportsmanship resource for those participating in athletics on all levels.