It was August 4, the first day that NFL free agents could practice with their respective teams in training camp. The Saints had just started team stretch in their indoor practice facility when a familiar sound bellowed in the building.
"Mr. Lance Moore!" shouted S Roman Harper.
"I missed that," said QB Drew Brees with a smile.
It doesn't matter if it's a game day or a team stretch, Harper has yelled out Moore's name for years.
"If we are both on the field, he is going to scream it," laughed Moore. "It just became a daily tradition around here."
Harper's shout-out is just one of the many things that has made Moore love his time in New Orleans.
Moore was an unrestricted free agent this offseason and although he would have been a sought-after prospect on the open market, he said New Orleans was his top choice throughout the process.
"I've been here for the past six years and to finally ink that long-term deal, that's something you work hard for your whole career," said Moore. "To now finally have it, it's a great thing. I felt my opportunity for success and best situation was here."
Along with his teammates, Moore said the passionate Saints fan base made it difficult to think about leaving the Crescent City.
Moore is one of the most popular Saints players. His jersey is one of the top-sellers among Saints players. He's one of the most-requested players during autograph sessions at training camp.
He has more than 40,000 followers on his Twitter account.
"(The fan support) was a major part of my decision on where I wanted to play this year," he said. "Thinking of the Saints fans and all the love they showed me for the last six years made it easy to stay."
Moore re-signed with the Saints coming off a strong season where he rebounded from his 2009 campaign that was hampered by hamstring and ankle injuries. He appeared in all 16 regular season games in 2010 and notched 66 catches for 763 yards for a team-leading eight touchdowns.
Moore removed any doubt that he had recovered from his 2009 injuries when against the Falcons in Week 3 at the Superdome, he caught six balls for 149 yards and two touchdowns, including a career-best 80-yard score.
He also shined on special teams with a 72-yard punt return. Moore, who turned 28 on Wednesday, plays with the same determination that he had when he joined the Saints as a member of the practice squad in 2005.
He spent the majority of his first two years with the Saints on the practice roster. He was allocated to the Berlin Thunder of NFL Europe for a few months in 2006.
"Europe was a great experience and one that I will never forget," said Moore. "To go from not playing in any regular season games in 2005 to getting to go to NFL Europe and seeing live action, I think that extremely valuable. It definitely helped me to better my craft a little bit and set me up to eventually make the team in 2006."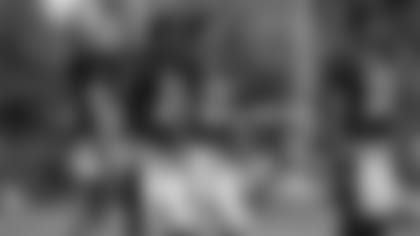 Moore, along with Marques Colston, Devery Henderson and Robert Meachem, have made for one of the most dangerous receiving squads in the NFL since 2008.
The Saints offense has led the league in total offense in three of the past five seasons in large part because of their wideout weapons.
Colston, Henderson, Meachem and Moore have all posted multiple 100-plus yard and multi-score games. Moore says Brees' knack for being able to spread the ball is something the receivers embrace and they all know "any day could be your day."
"(Saints receivers) are an unselfish group," said Moore. "We take pride in making the group better."
With an established stable of receivers, it leaves little room for a new wideout to come onboard. The Saints had as many as 11 receivers in training camp and typically only carry five or six on their final 53-man roster.
However, Moore always preaches to the new receivers to not see the veterans as roadblocks to their development but an asset.
"I know how those guys feel because that was me in '05," said Moore. "They have to go about it the hard way and all the odds are against them. They have to know that their time will be coming but they have to be ready for it. Even though in a way we are competing against them, we are here to help them as well. "
Another receiver Moore has helped guide is his younger brother Nick.
Like Lance, Nick attended Toledo and was a two-time All-MAC selection and led the Rockets as a senior with 78 receptions in 2008. He finished his four-year career with 182 catches, putting him fourth on UT's all-time list.
Nick is currently a receiver for the BC Lions of the Canadian Football League. Despite playing in different countries, the two remain close and keep tabs on how the other is doing on the gridiron.
"It's was always fun to have him around and for us to be doing the same thing," said Lance. "We wore the same numbers growing up and were always playing the same sports but at no time have I thought he was playing in my shadow.
"He has made his own name because of the way he worked. Now he has developed and has an extremely great work ethic and it shows with his play in Canada. Football is the game we have both always loved playing."
With a new contract, Moore plans to finish playing the game he loves in New Orleans. The undrafted rookie free agent arrived in the Crescent City as an uknown 5-foot-9, 190 pound prospect.
He has emerged as a staple of the Saints high-powered offense.
Even with the numbers he has put up in his six years and a Super Bowl ring to go with it, the veteran playmaker says there is still plenty more to come.
"I was fighting an uphill battle when I got here and was one of the guys where the odds were against me," said Moore. "Not a lot of people actually thought I would ever play. To see where I am now is a token of how I have worked and stuck with it. I am very blessed. It's been an unbelievably good story and hopefully there are a lot more chapters to go in my career."