What you don't see is the total relentlessness of consistency.
You get glimpses of it – the pre-practice drills he does in training camp that have to be done just so before they're deemed satisfactory, the pantomiming and eye drills/visualization sequence that he goes through after passes in practice (sometimes after passes that he isn't the one throwing), the footwork that is balletic in its pursuit of precision, the stretching routine that isn't abbreviated, which means he remains locked in on completion even after teammates have sprung from the turf and are headed to drills.
But with all of that, you don't see the entirety of what makes Drew Brees Drew Brees, the quarterback who will lead the New Orleans Saints (11-5) into their Wild Card Playoff game Sunday against Carolina in the Mercedes-Benz Superdome.
For perspective, the Saints had five playoff seasons, one playoff win and five seasons of 10-plus victories before Brees arrived in 2006.
"I think the opportunity to be around a first ballot Hall of Famer reveals a lot about what's in the makeup of those types of guys, and the type of commitment and the type of consistency required to be who everyone knows him to be," said right tackle Zach Strief, Brees' longest-tenured teammate. Strief was a seventh-round draft pick in 2006.
"And that almost relentless consistency that he can create, really, to me, has always made him stand out. When we're at walk-through in the preseason, Drew's cadence, his tempo, his voice, his sense of urgency is exactly the same as it is fourth quarter, last game of the season, chance to go to the playoffs, everything on the line – it sounds the same. And to me, that's leadership.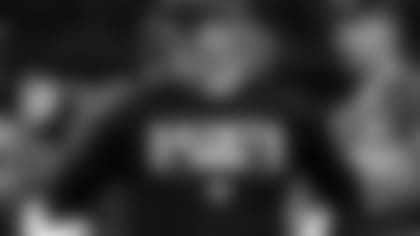 "In that moment – whether you realize it in that moment or not – Drew, being exactly the same on Day 1 as he is on the last and most important day, puts everybody in that huddle at ease. No matter what he says or however he plays, nothing, to me, does more for our team and offense than him being consistent in the biggest moments. It's something that I don't think most people could do if they wanted to."
It's part of the plane that Brees maintains, a level of performance that has been astonishing in its evenness.
He has five 5,000-yard passing seasons – there only have been nine such seasons in NFL history, and no one else has more than one – and he never has had less than 4,334 yards or 23 touchdowns in a season as a Saint. The latter two numbers occurred this season, when he set the record for completion percentage and threw just eight interceptions, the second fewest he ever has had in a season.
One of the best compliments Brees bestows is to say he knows what he's going to get from a teammate. The same can be said of him: Teammates know what they're going to get from Brees.
"He doesn't change a lot day to day," Strief said. "He is consistent. It's what makes him special, that even when it's bad, he's the same. And so, his schedule hasn't changed, his demeanor doesn't change.
"It's mind-blowing that somebody could do that. You would just think you would get exhausted of it at some point. Try to do anything the same way every day for 15 years. Anything. I mean, brush your teeth the same number of times – you'll lose it eventually."
But, maybe, it's easier to maintain during the prosperous times. And after three consecutive 7-9, non-playoff seasons for the Saints, this year has been a good one.
"What you do see out of him, and what I see out of him is, I think he's having a lot of fun," Strief said. "Seeing him come off the field after a touchdown pass, sometimes no matter how productive you are, if that productivity comes in a loss, you don't ever have as much fun with it as you'd like to. I think the pass to Ted Ginn right before the half against the Falcons (a 54-yard touchdown with 14 seconds left in the quarter of New Orleans' 23-13 victory on Christmas Eve) – I look out and I see him kind of running around the field, arm up, kind of swerving down the field and in those moments, you realize that a quarterback that's approaching 40 years old is still playing the game like he's in high school. And he can still have fun.
"I think the opportunity for that has come up a lot more this year. I think Drew will play as long as he's able to, but I think he's also smart enough to know that he doesn't know when that's going to be. There's going to come a point where you can't anymore and so, every one of these opportunities is priceless, every single one of them is important and I know that that's not lost on Drew. I know he knows that every chance to win another championship is extremely precious and he's going to take advantage of it."
The Saints are in this position, largely, because of Brees.
The offense has been as balanced as it ever has been during his tenure, with the running game (129.4 yards per game, fifth in the NFL, and 23 touchdowns) providing an equal threat to the passing game. But the fact is that the Saints' most important offensive position is filled because the team got it right when it signed Brees.
"There's not the right word (to express how important it was that Brees was the right choice)," Coach Sean Payton said. "It was significant. The better part of the early evaluation process (in 2006) was on that year's quarterbacks with (Jay) Cutler and (Vince) Young and (Matt) Leinart, and (the Saints had) the second pick.
"Just after the Combine ended, then Drew became available and the focus shifted a little bit and moved a lot more aggressively toward a player like him. Josh McCown was on a flight into New Orleans as a potential veteran to work with. But I think (signing Brees) changed everything."
Brees has been gold during the good times. Perhaps, though, he has been priceless when the Saints have struggled, as was the case the three previous, non-playoff seasons.
"You see in him the frustration," Strief said. "A lot of people don't know – maybe they assume or think – but he spends more time here than any other player. He puts more work in than any other player. And I think with that comes more disappointment in a lack of success than any other player.
"That being said, while I can see that because I know him and I know what he looks like when he's happy and when he's not happy, his demeanor is the same. So he's not a guy that's ever going to come off the field and grab a player to be negative on. That's just not how he's built. And so in those seasons where you're not having success, he's not a yeller and a screamer. He's not going to come over and tell us all to pick it up and figure it out. He leads by positivity and he leads by having the right attitude all the time.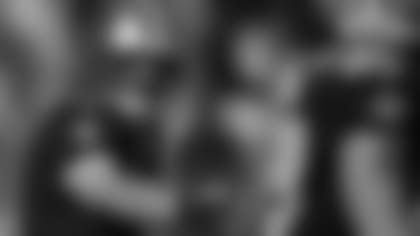 "So we're getting ready to go on the field and Drew's turning around, no matter how that game has gone to that point, and it's, 'Hey, (let's get the) first first down, one play at a time, let's do this together,' no matter the situation. And I think from a playing standpoint, he becomes very endearing to all of us because he seems to always have your back.
"No matter what you do or how you mess up, that guy always seems to have faith and belief in the guys around him and you can feel that as a player. Even in seasons when it's not going well, you feel like the quarterback has your back and I think that goes a long way for guys. And yet, I think for Drew those seasons have been very frustrating."
Frustration was minimized this season, replaced by the satisfaction that comes with success. It's another chapter to the prosperity that New Orleans never had experienced before Brees came to town, a presence that will be missed when he finally is no longer a Saint.
Even then, though, it could be difficult to grasp just what New Orleans and the Saints have been fortunate enough to witness.
"I think yes and no," Strief said. "I think, one, you're in a city that hasn't always had tremendous success on a football field. And with Drew has come success that they had never seen before, and I think there' s a ton of appreciation in that, at the end of the day, he's face of this franchise. He's the motor. He's the guy that runs everything, and I think people love and respect him for that.
"Do I think people can have any grasp of just how productive he has been? No, not at all. What you see and hear in this city is a year like this year, where Drew throws for 240 and that's like an, 'Oh, he didn't do great.' Because we're used to 385 and 400 and all of these crazy, video game numbers that he's put up here over time. And the reality is, those numbers have often times led to losses. They're a result of situations that we'd rather not be in – sometimes when you throw for a lot of yards, you're trying to catch up.
"So it's great to have stats, and I think that Drew has always been very quick to point that out, that the stats aren't just him, either, they're the result of a lot of different people and a lot of different scenarios that are occurring within a game. I think what you're seen this year is a tremendous amount of unselfishness and not caring what he's throwing for.
"You've never heard the guy say, 'I only got 30 pass attempts this week.' He just wants to win games and I think from a fan standpoint sometimes, it's easy to look at a stat line and try to take out of that the production of that player. And yet, it doesn't say in that stat line – against the Falcons, he threw for 240 yards but what it doesn't say is, he got us into the correct run. He got us into the right look, changed the play, and Mark Ingram II scores a 26-yard touchdown run. And that ends up reflecting on the running back and the offensive line and yet without Drew, that never occurs.
"And so, he's doing so much more than what is in his stat line, that I think it's hard to appreciate everything that the guy does. It's very easy to get used to 5,000-yard seasons until you realize that he's one of five people that have ever done it and he's done it five times. You lose track of that."
You lose track of the avalanche of consistency, and relentlessness required to attain it.
You don't see the effort required to sustain it. But you appreciate that it's there.