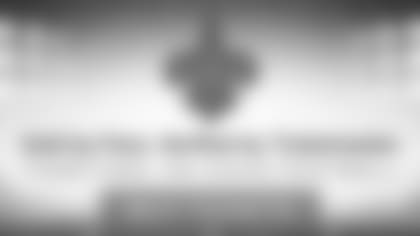 ](http://www.ticketexchangebyticketmaster.com/NFL/new-orleans-saints-tickets/?intcmp=tm108616&wt.mcid=NFLTEAMNOTRAININGCAMPARTINCLAD_300x250 "link")
White Sulphur Springs, W. Va. – The oddity isn't that rookie linebacker Stephone Anthony is taking snaps with the New Orleans Saints' first-team defense during training camp at The Greenbrier. That fact makes the second of New Orleans' two first-round picks no different than fellow linebacker Hau Kikaha, the team's second-round pick, or any of the other pups who periodically get to line up with the starters.
The oddity is that Anthony often has been the receiver and distributor of the defensive calls.
Coach Sean Payton said the rookie likely would've gotten reps at "Mike" linebacker as well as "Will" during training camp. But because Dannell Ellerbe has been unable to practice for the last couple of days, and David Hawthorne is versatile enough to move from Mike to Will, Anthony has been given the opening to work more with the first-team defense.
He hasn't done anything to advance a notion that he doesn't belong.
"He's doing well," Coach Sean Payton said. "The communication process is the first thing – he's getting the calls in from the sideline, he's got the wireless device, he's handling that well, digesting it.
"Much like (offensive tackle and fellow first-round pick) Andrus Peat, you can't give him enough reps. There's a physical presence to him when he's out there and you can feel that. We've been careful about how much we're installing and I think that has helped him and some of the other younger players on defense. Still got a lot of work to do, but it's encouraging."
There are times when Anthony particularly has been encouraging. As the Saints have donned the pads the last three days, the 6-foot-3, 245-pounder has been highly visible during practice. Being an imposing physical presence is one thing, but displaying it is quite another and Anthony hasn't shied away in his display.
"I think he's done a phenomenal job catching on," defensive coordinator Rob Ryan said. "He's being coached by (assistant head coach/linebackers) Joe (Vitt), so you know he's being coached hard but he's being coached so well. And it shows.
"This guy is not flinching out there. The thing you've got to love about him is you heard him out there. He hits. He hits people, he knocks people backward and we are in that business when you're playing middle linebacker."
For Anthony, business has been good.
"I think it goes to my offseason work," he said. "I was able to get in my playbook a little bit, study a little bit and I had a chance to learn the game, take some time off and really get my body back.
"You want to learn all three positions, whether it's the Will or the Sam or the Mike. I think regardless of whether I'm running with the 1s or the 2s, it really doesn't matter right now. I'm just trying to focus in and get better every day, take this thing one play at a time, one day at a time."
Anthony almost has shown as much instinctual ability as he has natural ability, and he has loads of the latter. He had a team-high 90 tackles, 2.5 sacks, two forced fumbles, an interception and four passes defensed as a senior at Clemson, following up a junior year in which he totaled 131 tackles, four sacks, five passes defensed and an interception.
"He just finished playing for the No. 1 defense in college," Payton said. "So I think (his instincts) are pretty good."
Said Anthony: "I definitely don't want to take away from my natural ability, but preparation is key. Once I got myself prepared and understood what I was doing, it kind of comes natural."
So does being in a position of leadership. It's what he was at Clemson as a co-captain, and what he's attempting to become as a Saint.
"I think the headset, to me, kind of helps the player," Anthony said. "I would have loved to have one of those in college. I think it benefits the player. You get your call and you get lined up, you pretty much get the call five seconds before everybody so you process it a little bit faster.
"It's kind of nerve-wracking a little bit but as time goes on you earn your respect. You keep knocking down the trees every day.
"I want to be great and I want those guys to respect me. I want those guys to look at me and (me) be somebody they can count on."
Photos from Saints Training Camp presented by Verizon on Monday, August 3, 2015. Photos by Richard Crank (New Orleans Saints photos)