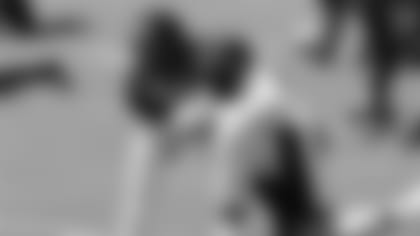 In a New Orleans Saints secondary dominated by notable names garnered through the NFL Draft and free agency, the least notable in terms of name recognition probably has been the most important so far. Because if the most important ability is availability, then safety Rafael Bush unquestionably has led the charge in training camp and the preseason.
Practice after practice, Bush has been present for roll call. Drill after drill, he has lined up and competed. Rep after rep, he has been visible. Injury after injury, and return after return, he has been the one constant for New Orleans' secondary.
And it matters little to Bush that, at various times, both starting safeties (Kenny Vaccaro and Jairus Byrd) and the top three cornerbacks (Brandon Browner, Keenan Lewis and Delvin Breaux) have been absent with injury.
The former undrafted rookie from South Carolina State (in 2010) simply has showed up to do his job, day after day.
!"I think it's normal for me, I think I've been in this situation before," Bush said. "I just try to make sure that I know all the spots on the defense in the secondary, so that if anything were to happen I can be able to play multiple spots.
"Being the quarterback back there, I've got to make sure everybody knows their job so I can get guys out there and get them lined up right.
"I just try to do my job day in and day out, I just try to lead by example. I'm not going to say I'm a rah-rah guy, I don't say much. But if I think something needs to be said, then I'm going to say it and I think those guys in the room have enough respect to understand where I'm coming from."
The respect stems from the fact that Bush is the longest-tenured Saint in the secondary, having joined the franchise in 2012. And, too, it likely can be traced to the fact that Bush – whether or not he starts – is a critical member of the Saints' special team units. He's highly regarded enough by the franchise that the Saints matched the offer sheet that Atlanta gave Bush last summer.
Bush, who had a career-high 73 tackles and three passes defensed last season while starting seven of 10 games, said he looks at the periodic absences in the secondary (Bush hasn't practiced or played in training camp or preseason games) as a positive.
"I think it's a good thing, a lot of young guys get the opportunity to go out there and make plays and get confidence," he said. "In this league, injury is 100 percent so the next man up has to be ready. I think it's beneficial for those guys to be able to get those reps now.
"I think it's beneficial for those young guys. You get those opportunities to get confidence, gain trust from your teammates. It's the next man up mentality – you never know what can happen in a game, in a season. You've got 16 games and injury is part of football. If those guys can get out there and already have that confidence and trust from their teammates, I think it works well for them."
It also has worked well for them to have Bush on the field as a steadying influence, the one constant in a unit that has been hit hard by injury.
"I don't really pride myself on (reliability)," Bush said. "I just try to go out there and lead by example and hopefully, the young guys and some of the other guys that haven't been here as long as I have (will) just follow my lead."
Photos from Saints Training Camp presented by Verizon on Thursday August 27, 2015. Photos by Richard Crank (New Orleans Saints photos)