Adrian Peterson's goal is to be the New Orleans Saints' starting running back.
It's the same goal, he said, that should be targeted by each and every one of his new teammates in the running backs room.
"That's the mentality that I have," Peterson said Tuesday. "When you want to be the greatest to ever do it, you can't picture yourself being behind someone else. And that's not a knock on anyone in our running back room.
"I would tell them that they need to think the same – if you're not, you're cheating yourself. That's the mentality I have and that's not changing. I work extremely hard to be able to go out and perform the way that I perform. That hasn't stopped and my mind-set won't change."
Based on Peterson's results, it's impossible to debate the approach.
The NFL's active leader in rushing touchdowns (97) and second-leading active rusher (11,797 yards; Frank Gore has 13,065) did so on 2,418 carries in 10 seasons with the Vikings before joining the Saints as an unrestricted free agent.
But he also understands the reality of joining a team that already has Mark Ingram in the backfield, with Ingram (1,043 yards and six touchdowns on 205 carries) coming off his best NFL season. And Peterson said the Saints' offense, and Ingram's production in it, helped lure Peterson to New Orleans.
"I love his style and how he runs the ball," Peterson said. "Physical back. Any time you have guys when you're splitting carries, your body's going to be fresher. That's nothing but a perk."
Peterson is coming off a season in which he played only three games and rushed for 72 yards on 37 carries. He missed much of the season due to a knee injury and surgery.
Two seasons ago, Peterson ran for 1,485 yards and 11 touchdowns on 327 carries, and believes he has more of that level of play in him. The Saints signed him to a two-year deal and Coach Sean Payton said that the franchise believes Peterson has "several" productive seasons remaining.
"I honestly feel I can play until I'm 40," Peterson said. "That's not just me talking. Mentally I feel like I can do that, and physically as well. I don't know if I would want to do that. (But) a good five, six years solid, I know I can play at a high level."
Peterson said he also may be playing in preseason games this season, something that he generally did not do with the Vikings. His heavy workload in Minnesota (six seasons of at least 279 carries) usually was grounds to avoid the excess pounding; Peterson has not played in a preseason game since 2011.
"I think that's a bridge we'll cross when we get there, but I feel like playing in the preseason will be a little beneficial to me," he said. "I think getting out there and running around – it's a fresh start for me. So it'll be good to get out there and see how things go.
"I'm just excited. I'm excited to start this journey and see where things lead us."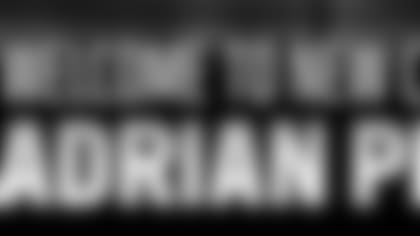 Photos of new Saints running back Adrian Peterson.