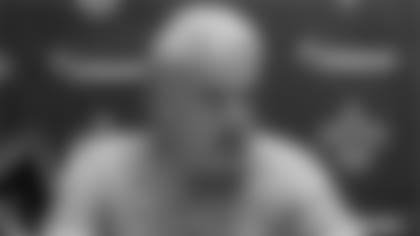 New Orleans Saints Assistant Head Coach/Linebackers Joe Vitt
Post-Practice Media Availability
"We had real good work today. We are on our regular season schedule as far as the Texans go now, so today was a first and second down install. As you have probably heard, we acquired Barrett Ruud from Seattle for an unconditional draft pick. He did not practice with us today. He is getting a physical right now as we speak."
Did the familiarity factor with Ruud since he played against you for five years in the NFC South with Tampa Bay play a role in trading for him?
"He is a guy that I personally worked out when he was in college. I think he has a real good feel for the game. He has played at a high level in this league. He has played on some of the top defenses in this league. He's 29 years old, so he still has a lot of football ahead of him. We will introduce him to our system and see where he can get to by this weekend."
Is there a realistic chance he will play against the Texans?
Is there any worry about his offseason injuries?
"He is taking a physical right now."
How does this move affect Ramon Humber?
"We are taking a look at both of them."
Can you talk Humber's suspension?
"Humber can't play for the first three games."
Was it good to see Darren Sproles and Turk McBride fully dressed for practice?
"I think that if this was a regular season game, both players would go this week. Darren has been running real well in his rehab. Turk has been doing a good job with his running. They were both introduced today to the individual periods. They were non-contact. I think they are coming along a little faster than we thought."
Can you discuss Marquis Johnson's status today?
"(He experienced) a little swelling so we held him out today."
Can you understand the pressure that is felt by the undrafted free agents and rookies who might be playing their last game as Saints on Saturday?
"Something that we take seriously around here is that there are a lot of guys on this team that have worked their whole life to get here. That is one of the reasons we give these players a good look in the preseason games. We do not overplay our veterans. These first- and second-year players have had at least 45 reps in the games that they have been here for (so) that we could take a good look at them. I think that we have tried to serve them all justice. If you come to this football team, we are going to give you a good look. We are going to try to coach as hard as we can to make you better and give you the best chance you can to play in the National Football League. We also tell the guy this is a hard team to make. There are some real good players on this football team, but that doesn't mean you can't play in the league. Everybody is going to look at this film and if you have the skill level, another team will pick you up and we are happy for them (if that happens)."
Do they have to be mentally tough and have that mindset going in?
"Then when they get the opportunity to play and they get the opportunity to make plays, they have to make them. There is a short trial period for people to make this football team. They know exactly where they are right now. I don't think anybody is surprised where they are on the depth chart right now, not surprised about the play time they have gotten. We try to do things the right way here."
How much have you had to tinker with your depth chart at linebacker?
"A lot. We have lost a couple of people the last couple of days."
Who will you maybe move up the depth chart?
"You might see a little bit more of Lawrence Wilson."
Have you gotten any closer to figuring out who will take over for you?
"No. Mickey (Loomis) and Mr. Benson are making that decision. I am staying busy with the football team. I have nearly two weeks to be with them, so I like being around the team."