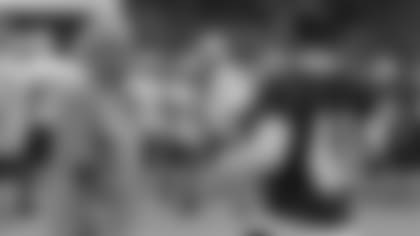 New Orleans Saints Assistant Head Coach/Linebackers Joe Vitt
Jabari Greer had a nice today, picking off a couple of passes.
"He sure did. I think Jabari has really showed us the past couple of years his man coverage skills. I think what you can really see now is what he can do in zone coverage. I think he's got real good vision and you know his quick twitch. He's got deep speed. That was encouraging to see."
The defensive line had a nice practice today.
"Yeah I think they did. You have two really good lines going up against each other every day. I think they both take a lot of pride, and it was fun to watch."
Mark Ingram looked good today. I know you're taking it slow but it was progress.
"It's a process, you know. I kind of said yesterday that we have five preseason games, so this is not going to be built in one day. This is going to be a marathon, so to bring him along the right way for the long haul is going to be important for us."
Can you talk a little bit about Scott Shanle? He's been in the league for ten years. What has made him really stick with this team?
"He's a guy that over the course of his career has really taken good care of himself. Every year as a coach, you look and say, 'Is there going to be a diminishing skill level?' And you still haven't seen it yet. He still has a quick twitch, he's got some long speed and he's got good use of his hands. The reason for his playing so long is his knowledge of how to play the game. You take a guy who has played this long and studied the game, along with his athletic skill set, that's why he's still playing."
Is it unusual for a guy like Shanle to play at such a high level for so long?
"Maybe in this era of football because of the game and how much more quicker and violent it is. Back in the old days Jack Camp, Jack Lambert and guys like that did play that long. But I think it's a little different now and he's pretty unique."
Is the plan still to get Akiem Hicks some work tomorrow?
"We can't get him to work tomorrow; we can get him on the field and start working him. He has to go non-padded for the first three days according to the new CBA agreement, so that's the plan right now."
How is David Thomas's injury coming along?
"Good. Much better today. He went through the stretching and we are going to try and bring him along the right way. He's about where we thought he'd be."
What do you see this training camp being like for Curtis Lofton coming in from another team and assuming a big responsibility?
"This is a similar system to what he had in Atlanta. (It is) a lot of zone pressures, multiple coverages. What Curtis is really learning now is the new terminology and getting in and out of checks, but that's why we practice. So far he has handled it great."
Where is Ben Grubbs at so far, playing-wise?
"This is our first day of pads on the offensive and defensive linemen so I don't think that's a fair assessment right now. Based on what he's done and based on his outstanding off-season and his commitment to this point (one day, one practice), he's where we thought he'd be."
Can you talk a little bit about Martez Wilson?
"Martez continues to really grow in the system. You guys have seen it with dropping defensive ends into coverage and things like that. We drafted him here as a linebacker so he's got a skill set to cover."
What about Martez Wilson's pass-rushing? It seems like he was holding his own against the offensive linemen.
"He's doing OK. We have the big boy pads on, and this is a process. So lets see how we can get better tomorrow."