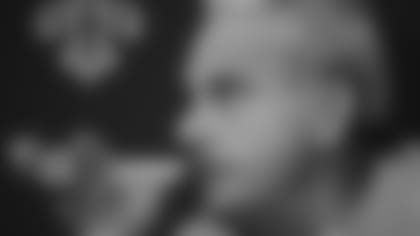 New Orleans Saints Assistant Head Coach/Linebackers Joe Vitt
What is the feeling that you get as you are leaving New Orleans for Canton and then New England?
"We have stayed on schedule with our install. We have stayed on schedule with everything that we wanted to get in. I am going to be honest with you, we are a little bit behind on our situational periods but we think that we can catch up on that on Monday when we get to New England. When we get to New England on Monday, we need to run and lift our players after the game and then get into some situational periods. That would be the only thing that we are a little behind in. Other than that, we feel that we are on course."
Have you decided any snap number details?
"We talked about that in detail last night. I don't want to talk about the snaps. I could say this to you, you guys know our program this year. We have done things the same way. If you go back and look at the Pittsburgh game we played in the Hall of Fame back in 2007, you will know exactly how we are going to play the game."
Have you talked to coach (Ken) Whisenhunt at all about what you are going to be working on?
What are you looking for on Sunday night?
"I think that is a great question. Number one, the evaluation process is going to be this, we have to know what a player's physicality is. Physicality is going to fill what we are looking for. Number two, can he finish? Can he finish every play? Can he finish every series? Can he finish every down, quarter, and half? Then this, does the player know what to do? Does he know how to do it? Does he know what to do? Does he know how to get them? Those things are the things that we are looking at."
Talk about Akiem Hicks being back and will he be able to play?
"What we have done with that, this was his first day in pads today. We are going to evaluate where we think he is right now. I think that we are sensitive to the fact that this is a Canadian kid coming out of a lower-class program and he hasn't had the pads on. We will evaluate that today."
What is the status of Nick Toon?
What is Nick Toon's injury?
"He has a foot injury that we think is probably going to be anywhere from six to ten days."
"Jabari Greer will not play."