J.D. Roberts stepped into a difficult situation, and his New Orleans Saints players knew it as much as Roberts did.
Roberts, the second coach in franchise history, died Monday at the age of 88. He was an original member of New Orleans' first staff as a scout and linebackers coach from 1967-69 before returning in 1970, hired as interim coach midway through the 14-game season, with New Orleans at 1-6.
And his first game proved to be one of the most memorable in franchise history, a 19-17 victory over Detroit that was capped by Tom Dempsey's then-NFL record, 63-yard field goal as time expired.
"We got off to a fantastic start as far as a win," said guard Jake Kupp, a Saint from 1967-75 and a member of the team's Hall of Fame.
But that was the highlight of the season; the team lost six straight to finish the year, perhaps the best testament to the difficulty of the job Roberts took on.
"Your rear end is uptight when you're first thrown into it," said receiver Danny Abramowicz, a Saints Hall of Famer who played under Roberts from 1970-72. "Back in those days, and still to this day, the Saints were the big thing and you were under the microscope. They didn't have a lot to compare it to, but you'd see other teams.
"Back then, it was hard to build a franchise. Now, with the salary cap, you can do it pretty good. Back then, you had to do it through the draft, either older guys (through the expansion draft) and young guys like myself (in the NFL draft). That formula is not real good. You have to have some guys in the middle of the road, guys that are four or five years in the league, been around, played. We didn't have that luxury. You had to do it through the draft and older players, so it was a tough situation.
"But he handled it well. He had that cigar in his mouth and when you saw him chewing on it hard, you knew that something was going on."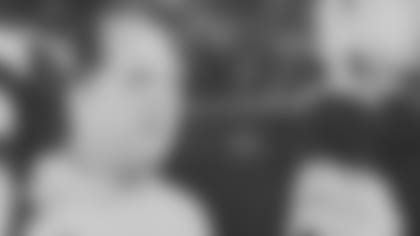 "J.D. drafted me, he was my first coach. He always had my back," said Manning, a Saints Hall of Famer and inaugural member of the franchise's Ring of Honor. "He supported me, he put me in right away whether I was ready or not, and he could have easily pulled me out sometimes, because there were a lot of struggles. But he always had my back and supported me.
"He had a tough time coming here. He was hired to kind of make the transition – the original Saints were a lot of older guys that came in the expansion draft. So now, they're going to go in a different direction and try to draft, so you still had some of the other guys and you're trying to mix it up and bring discipline to the team and everything. He had a tough job. But J.D. was a football coach, he was a disciplinarian and a good, solid guy. I'm proud to say I was friends with him for 50 years. He was a good friend.
"He helped me. If I struggled, he'd pump me up. I remember him calling me in one day, I thought he was going to sit me down because we were struggling. I thought he was going to sit me down, (but) just the opposite. He said, 'I don't care what happens out there, I don't care how bad we get beat, I don't care how many interceptions you throw, you're my quarterback. You're going to be there.' Which gave me a boost. He always had my back."
Kupp agreed that Roberts inherited a difficult position.
"What I remember about J.D. is that we were in tough shape when J.D. came in and took the team," Kupp said. "We hadn't had a lot of success, and he came into a difficult situation. I felt like having had a military background (Roberts served as a lieutenant in the Marine Corps), he was brought in to establish discipline and bring a team together.
"A lot of people felt like the team was undisciplined at that time, and I kind of disagreed with that. I think that we were a hard-working team, we were a team that was very close even though we'd been through some difficult times. And so, when J.D. came in it was very difficult, because he was kind of instructed to establish discipline within the organization.
"We were a hard-working team. I'd never been through such grueling training camps and what have you in 1967, 1968, 1969. So it wasn't the fact that we had not worked, but when J.D. came in, those were his instructions and so we continued to really just, to try on top of what the team had already been through, to try to establish a high-discipline team on top of that, was very difficult. It was very hard on the players.
"Personally, I felt like J.D. was a great guy. He was a no-nonsense guy, he knew what he wanted to do, and yet trying to establish hard work on top of hard work, was very hard. The players were kind of pushed to a place where, it was just hard. To me, J.D. was placed in a position that was very difficult. And then, we did not have a lot of success."
Abramowicz said that Roberts, who won the Outland Trophy as the nation's top offensive lineman at Oklahoma in 1953, "knew the score and he was thrown into a tough situation."
"I thought he handled himself well," Abramowicz said. "He listened to the players but he was a disciplinarian. I don't know how well he'd fit in nowadays, but you respected him. We knew he was nervous; players aren't stupid, they know the tough situation a coach is put into. What you do is, you go out there and you're paid to play to the best of your ability, and he's the head coach and that's what you've got to do, and come together as players. "
"He was in the trenches. Guys knew he was in the trenches."
Roberts is survived by his brother Wayne "Butch" Vincent Roberts (Suzanne); children Greg Roberts (Cindee), Becky Smith (Greg), Mindy Fleet, Mark Roberts (Shelley), and Neil Roberts; 12 grandchildren, and 5 great-grandchildren. He is preceaded in death by his wife June Roberts; father, William Edward Roberts; mother, Mildred Bianchi Roberts; brother, William Francis Roberts; and sister, Carol Roberts Matthews.
A visitation will be held Friday in Oklahoma City.