Saints Executive Vice President/General Manager Mickey Loomis spoke with Adam Schein and Rich Gannon on Sirius NFL Radio Tuesday afternoon. Below are some highlights from the interview:
On the team's draft preparations:
"Right now, we have our board pretty much set. We are reviewing some of the previous work we have done. You also start thinking of scenarios of who is interested in moving back and moving forward. Also, what kind of compensation are you looking for if you decide to move back or forward? We are looking at that and looking at a lot of historical information to see what it takes to move. Where we are at pick No. 24 and what players are left may dictate whether we want to move back or move forward. We are going through those scenarios right now."
On the number of quarterbacks he projects will be taken in the first round:
 "I think there is a possibility of six but I don't know if I would bet on six (laughter). It's a position where if you need one, you have to go and get one and take some chances that you ordinarily might not take. Who knows at the end of the day what will happen but I will say this, I do sleep pretty well (knowing Drew Brees is the Saints quarterback) and thank goodness for that."
On how soon teams discuss trading draft picks:
"For us, we are hearing from teams today and also did yesterday really. They are interested in moving back or moving forward. You don't have any substantial talks or talks about compensation on what's it going to take but you do hear on teams' interests of moving. That is happening today and it will happen a little more tomorrow. Thursday morning you will hear a lot more of that. That's going to heat up over the next couple of days. As we all know, there is a lot more talking than doing. You end up talking about a lot more (trades) than you actually pull the trigger on."   
On if the Saints will "prioritize need over value" in the draft:
"We are going to try not to do that. We are going to try and take the best player that is available to us. The player that we have graded the highest. At the same time, what you are hoping for is that that player is at a position where you think you have a need. More often than not, you have two or three players that are really close in value so then you select the player you have the most need for.
There have been occasions where a player graded so much higher than anybody else that we had to take him. We have done that a number of times - once with Deuce McAllister and that turned out pretty well. Also with Will Smith and that turned out well. We have had those times where we have chosen to go with the best player on our board and that always seems to work out best for most teams. I think most teams would tell you that is the best way to go in a perfect world."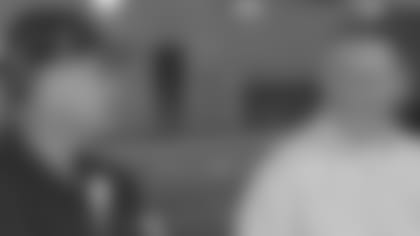 On Defensive Coordinator Gregg Williams:
"One of the great things about Gregg is that he has the ability as a coach to take whatever talents a player has and put them in a great position to be successful. I think there are a lot of good players in this draft that Gregg and our defensive coaches will have to look at."
On what the Saints' "biggest area of need" in the draft is:
"I think for us, we would point to the defensive side of the ball and the front seven. We would like to add some players to that group. We have some good players but I think if you looked at our team that would be the area that we would say we have a need at. We have a lot of good players in the back end. We have some players to re-sign back there like Roman Harper. We have a few other guys at other positions that we have to re-sign. I think with the front seven, if we can help ourselves there and improve the pass rush that would help us."
On getting the coaches and scouts on the same page with team's draft preparation:
"Our coaches come in and we have them talk to our scouts to tell them what exactly they are looking for at every position on the field. What are the most important characteristics to them as coaches? We go through that process during training camp extensively before our scouts get out to see the college players. After the season is over, we give our coaches a number of guys to do film work on. We go to the Senior Bowl and we go to the NFL Combine and they have a group of players they have to look at. We bring them in and we make them part of our process. I don't think all teams do it the same way but we feel like it's important to have them invested in the decision making and invested in the guys we select. That has worked for us."
On if the Saints are in the "running back business":
"We are in the 'good football player business' (laughter) if that turns out to be a running back then so be it. We are just into collecting really good football players. We can't have enough of them. I think with running backs, we were on our sixth or seventh running back during our game in Seattle. We want to stack them up at that position and we will find time to look at that. One of the things that Sean (Payton) is really good at is taking advantage of the skills that each of those players bring to us whether it be Reggie (Bush), Pierre (Thomas), Lynell (Hamilton) or Chris Ivory. If we need to add a couple more to that mix then we will do that. I know that (Payton) is more than happy to have them."
On how he would judge the 2010 season:
"I think we are at the point now that if we are not in the Super Bowl we are disappointed and it hasn't been a successful season. That is probably the place we want to be. We are getting to that point. We are all disappointed. We were disappointed in our performance in the playoffs. We were 11-5 and that was a good season in respect to the number of wins and losses and how we responded to the Super Bowl. There were some good things to point to but at the end of the day we were disappointed in the end result. Hopefully that will give us the kind of resolve we need to improve in 2011."
On what he thinks of the new format of the Draft with it starting on Thursday in prime time and going through Saturday:
"I like the way the draft worked last year. It has been tweaked a little this year but I like it. I think it does give you some time to regroup and it makes the later round picks even more valuable. You put a lot more thought into it and you don't feel so much under the gun in those later rounds. I like the format a lot."