In last season's training camp, TE Jimmy Graham was a third-round draft pick with 13 collegiate football games under his belt trying to make the defending Super Bowl Champions roster.
Graham went on to be considered the steal of the 2010 NFL Draft by many experts. Rightfully so, after the third-round selection hauled in 31 receptions for 356 yards and five touchdowns in 2010.
After a strong rookie campaign, Graham finds himself as the most experienced tight end under contract on the Saints roster and in contention to be a starter.
Graham has been a favorite target of QB Drew Brees during the first week of training camp and has showcased some highlight catches for the thousands of fans in attendance on Airline Drive.
The second-year tight end credits his strong start to camp to his offseason conditioning. He says has put on 10 pounds of muscle to bulk up to 265 and focused on increasing his speed and agility.
"When you are a rookie, your eyes are wide open and just taking everything in," said Graham. "I am more confident this year. I was able to focus on my weaknesses and my technique heading into camp."
Head Coach Sean Payton is impressed with Graham's progress.
"I think he looks like he's in real good shape," said Payton. "That one rookie season is now under his belt. I think he's someone who learns very quickly. I think he's picked up what we're doing and he looks good. I think there's a snap progression, if you will, of experience.
"He has about two years of playing football; most of these guys have played at least 10 to 12 years. So that, along with the things that are specifically important for his position, those are the things that I think you will see him working on and improving on."
Graham's success on the gridiron was almost cut short. He stopped playing football after the ninth grade to focus solely on basketball. Graham started playing football again in college because he said "it is what I first loved playing."
Graham finished with only seventeen receptions for 213 yards (12.5 avg.), but scored on five of those grabs at the University of Miami. He also saw time on special teams, recording a solo tackle, while returning three short kickoffs 30 yards. As a blocker, he was credited 30 knockdowns.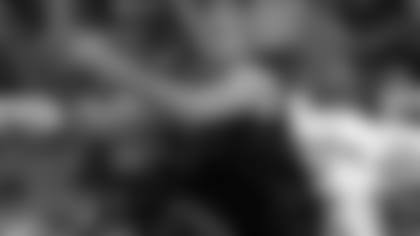 Graham made a name for himself on the basketball court at the "U." The six-foot-six, 260-pound power forward appeared in 120 games, starting 39 contests for the Hurricanes. His 104 blocked shots rank eighth in school history. He scored 509 points, an average of 4.24 points per game. He grabbed a total of 502 rebounds (4.2 rpg) and totaled 63 steals and 47 assists.
Many people have compared Graham to fellow tight ends who played basketball prior to getting in the league –Tony Gonzalez of the Falcons and Antonio Gates of the Chargers.
Graham said Gonzalez and Gates "paved the way" for him to be drafted in the NFL.
"They kind of led the way for me, and they made this process a lot easier," said Graham. "I owe a lot to them."
After only making one catch in the first six games of 2010, Graham began to find his niche in the offense in week seven when he caught four balls for 38 yards against the Browns. In the next game, Graham notched three catches for 49 yards including his first career touchdown on a 19-yard strike from Drew Brees.
The rookie tight end combined for 11 catches for 167 yards over the next three games. Graham said his rise in production in the latter half of the season was due to extra work he put in when practice was over.
"One day I was walking to the weight room and Brees yelled 'You aren't going anywhere' so I ran back to the field and to run routes with him and we were there for a while (laughter.). I tried to throw extra with Drew as much as I could because I feel it helped build trust and translate on the field."
That trust was highlighted in the last three games of the regular season as Graham caught a combined four touchdowns over that span, including the game-winning score against divisional rival Atlanta Falcons on Monday Night Football in Week 16. Graham showed off his basketball skills after the go-ahead touchdown as he dunked the ball over the crossbar of the goal post.
The 6-foot-5 multi-talented Saint says his basketball skills will always be a part of his game.
"When I am running a route, sometimes it feels like it's a rebound and you have to go up and get it," said Graham. "I enjoy basketball but I'm glad I stuck with football – I think it's the best sport for me."