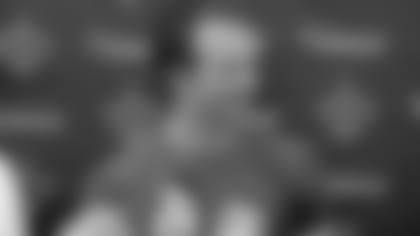 New Orleans Saints QB Drew Brees
Can you talk about the atmosphere today?
"It was a great atmosphere today. Obviously a ton of fans came out to watch practice. For us, it's great to break up the monotony of training camp, always by yourself and that kind of thing and come up for the opportunity to scrimmage against somebody other than yourself and really a great team. There's not a team that's won more games than the New England Patriots over the last decade. To have a chance to be around them, watch how they work, compete against new personnel and a new scheme is good for both sides."
Do you sense because of what's happened, that there is an us against the world sentiment?
"I didn't know if I'd say it like that it's us against the world, but were going to have a chip on our shoulder anyways. But, there's no shortage of motivation to go out and play well this year."
Do you admire how the Patriots played in 2007 when they were in a similar situation although not without a head coach?
"No they didn't, but they played well that year. They went out and almost won every game and obviously we hope we can put together the same type of result. Certainly it's something we can look at where maybe this is something similar we are going through. You try to take a negative and turn it into a positive.
Are they the one team that can relate to what you have at tight end?
"It's great to have a weapon like Jimmy (Graham). It's kind of ironic that him and (Rob) Gronkowski came out the same year. I think Gronk is a second and Jimmy a third round pick. Those guys have established themselves as two of the best tight ends in the league. Both players continue to get better and better. It's fun to get them on the same field to go at it even though it's not on both sides of the ball from the perspective of what great athletes and great players both are."
What does it take to cover them?
"You have to be very big, fast and athletic to cover these guys. The only guys that can cover them are each other."
How much did the teams get out of this?
"Obviously both teams are fresh because we're just in camps. We just played in the Hall of Fame game, but really it's the first preseason game for everyone here on Thursday night. To get out here and see the personnel they have, I love being able to compete against them, because that's a tightly run ship. Coach (Bill) Belichick has done a phenomenal job since he's been here obviously. They know how to work and win. It's great to have a chance to compete against them."
Did you have a chance to visit with Tom Brady?
"Yes, I've known Tom since college. We played against him when he was a senior at Michigan and I was a junior at Purdue. Really since then we've crossed paths a few times playing each other, a few times in the offseason. We both spend some of the offseason in Southern California as well. I actually saw him this offseason. We worked out together one day. I have a great relationship with Tom, not only professionally, but personally. Certainly he's one of the best if not the best of all time."