The Saints preseason opener Friday night against the 49ers got off to rough start for QB Chase Daniel.  Daniel characterized it as a "sloppy beginning."
He entered the game after the first team offense was unable to put any points on the board on three consecutive possessions.
Daniel mishandled his first snap, but recovered it. On the next play, he heaved a play-action pass 40 yards downfield that just missed the hands of WR Robert Meachem. On third down, LT Jermon Bushrod was called for a false start, resulting in a five-yard penalty.
On third-and-14, Daniel lined up in shotgun and was blitzed from both sides. The third-year signal caller didn't fluster as he raced up the field for a 19-yard gain, even taking a late hit to push the first down 15 yards further. It was the first first down of the game for either team.
"It was not the way you imagined you would start a series or your first preseason game," said Daniel. "I was just proud of our guys that we still found a way to get a first down and keep the drive alive."
Daniel went on to lead the offense down the field for a 47-yard Garrett Hartley field goal to give the Saints a 3-0 lead. He led the Saints on two more scoring drives, touchdown runs of 14 and 4 yards by RBs Mark Ingram and Chris Taylor.
Daniel finished the night completing 13-of-21 passes for 129 yards and rushed for 20 yards on three carries.
Daniel said he was pleased with his overall performance in the opener but cautioned there is a lot to improve on.
"I think the tempo of our offense can improve overall," said Daniel. "We were a little slow, but that is going to happen in our first preseason game. We didn't have any OTAs (Organized Team Activities) and really only one live period during camp.
"I still want to work on my footwork and the timing of my drops at the right point. Focusing on climbing in the pocket, that's something we stress here with Coach (Sean) Payton. I think I improved on that a lot."
Daniel knows that he needs to maximize his opportunities in the preseason. Since QB Drew Brees arrived in New Orleans, he has started 79 of 80 games. The only game Brees missed was the 2009 regular season finale in Carolina when the Saints rested most of their starters. With Brees' durability, Daniel's only guaranteed chance to receive extensive snaps is in the preseason.
"Obviously I want to get as many snaps as I possibly can get in the preseason," said Daniel. "Ultimately, that's up to Coach Payton and the offensive staff. Whatever they see fit, I have to be ready. Whether it's training with the ones or the twos, I have to be ready to go.  I'm going to do it."
Last preseason was when Daniel solidified his spot as Brees' understudy. The Saints had signed veteran QB Patrick Ramsey to provide competition for the backup position.  Daniel finished the 2010 preseason completing 31 of 48 passes for 369 yards, four touchdowns and three interceptions and earned the No. 2 job.
Daniel said now that he is the veteran backup, it has relinquished some of the pressure he felt last season and allowed him to focus on areas he needs to improve on.
"The coaching staff trusts me a little bit more now that I am in my third season," said Daniel. "It's a good feeling to have because you are not pushing and you are not pressing yourself to where you are just thinking too much. You are just out there playing and you are going with the flow."
Along with the coaching staff's trust, Daniel credits his growth with the Saints to Brees, who he calls the big brother he never had.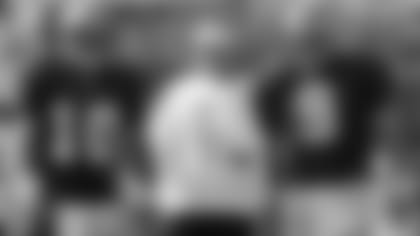 "(Brees) will be a first-ballot hall of famer in my opinion," said Daniel. "He is awesome to work with. I can't ask for a better position to be in with him and (Quarterbacks Coach) Joe Lombardi, (Offensive Coordinator) Pete Carmichael and (Head Coach) Payton. All those guys help me get ready each week. Getting the opportunity to learn how Drew prepares and how he goes about his business on and off the field helps me a lot."
Daniel and Brees' relationship is only strengthened by their highly competitive nature. Even though they are both listed at 6-0 on the roster, both argue they are taller than the other. Brees will concede that Daniel is faster than him but says he has better endurance because "Chase can't outlast the old bull."
Daniel's philosophy this season is to prepare as if he will be the starter because the opportunity could come at any time.
"I know I could be one snap away from going in," said Daniel. "You have to be ready for the opportunity or you might not get another one."