Drew Brees spoke with Deke Bellavia and Bobby Hebert of the Saints Radio Network (WWL 105.3 FM and 870 AM) Tuesday night. Listen to the full interview here.
The Saints QB discussed the offseason, training camp, his foundation and opening the NFL regular season at the Packers. Below are some highlights from the interview:
On being involved in the CBA negotiations:
"It's been a long time coming. Obviously this was a wild offseason for all of us. It was unchartered territory and something none of us were used to going back to March 11 when we were locked out. Not having an offseason that was organized by our organization, it was something we as a team had to do on our own. Still in a lot of cases, guys were on their own. There was a lot of uncertainty to how long this would last and the process itself.
"We all hoped that it would get done in time in order to get into camp and not miss any preseason games, certainly not miss any regular season games. It came down to the wire but we got a deal done that we are all very happy with. We feel like it is a fair deal for all sides. I know that fans are excited to have their teams back into camp and to get football season going."
On reports last week that he was looking to get a "side deal" for his involvement in the CBA negotiations:
"Unfortunately, there is a lot of stuff flying around in the media and it is not always true or not all true. I think there is a lot of speculation that gets thrown out there. Certainly, you don't want people to believe those things, especially when you are being accused of holding up the entire settlement agreement because of something self-serving or some kind of special perk you are trying to get yourself, which was obviously nowhere close to being true.
"I am not sure where that reporter got that information or if it was just made up to sell some newspapers. I felt like I needed to set the record straight and make sure people knew that I was not involved in (negotiations) for anything self-serving. It was all about my role on the negotiating team and as a lead plaintiff to get the best and most fair deal for players and to get back on the field as soon as possible. I was just there to help the process move along faster and certainly not be someone who was trying to hold it up."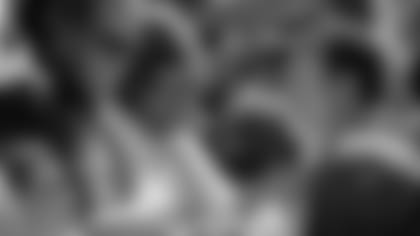 On his message to the fans heading into training camp:
"I can't tell you how excited we are to see all the fans out at camp. Usually we have a great representation of (fans) out to watch us practice. I know how excited they have been in years past about the start of the season. I think this one maybe more so than in years past because I think there has been so much uncertainty and doubt to whether there was going to be football this year. I know it freaked everybody out but here we are. Football has started. I know everybody is pumped up and ready for it to get going.
"I am just excited to see all the fans come out to practice. I know it is going to be extremely competitive as it always is, maybe even more so this year between our offense because we got a lot of ground to cover having missed an entire offseason. Even though we did some things on our own and I feel like we have a head start maybe on some other teams, but still we want to stay ahead."
On the team's plan starting Thursday:
"We are moving ahead. We are going to be installing offense, defense and getting these young guys up to speed as quickly as we can. We are moving forward. Obviously, we understand the entire league is in this position. It's not like it's just our team. Every team has this issue of not having their entire team there until August 4. They are going to have some free agents rolling in August 4th and having them get caught up.
"I think the more free agents that are re-signed that were guys that were already part of your team that helps because obviously they have a track record with your team and your system that you run. Hopefully we will be able to sign some of the guys that have been a part of our team over the last few years. In the event that guys are signed who have not been a part of our team before, then there will be a pretty quick learning curve because the first preseason game will be eight days later. We will try to get them up to speed as quickly as possible but that is what the preseason is for. It's to get all that stuff installed and make sure we get everybody back in the flow. If we have to modify the preseason a little bit due to the number of free agents that we are bringing in then that is what we will do. Regardless, we will have a plan."
On what he thinks the biggest challenge will be at the start of the season:
"I think the biggest challenge is for young players and draft picks that you hope to be big contributors this year to your team. There is absolutely an adjustment to the system that you are running. You have to learn a new system. Mentally, the challenge is to come along with that. Physically, as physical as the game and practice is, you hope you can get them up to speed as quickly as possible. I would say the biggest disadvantage is for a young player that didn't have the benefit of going through an offseason, OTAs and minicamps. Other than that, I feel like the fact that we were together in May and June as a team on our own, I feel like that was helpful. I feel like we have great leadership and great coaching on our team. We are all going to pull together and help get all those guys on the same page with us as quickly as possible so we can really start putting together our team and everybody beginning to understand what their role is going to be on the team. Obviously, we have high expectations for ourselves."
On his contract status:
"I am just worried about playing football and that is all I can be worried about. When the time comes for us to start talking with the Saints about extending the contract then we are ready to do that. For me, having gone through this whole offseason with the lockout and trying to get a deal done to get us back on the field and playing ball again, I think that is all I am looking forward to at this point is just getting back in the locker room with all the guys. The camraderie, watching us establish our identity again as a team, watching us pull it all together as a team and trying to make another run at a championship."
On opening the regular season on the road against the Green Bay Packers:
"We are looking forward to that first game. It's going to be a huge challenge going on the road and playing at Green Bay. We have (opened the NFL regular season) twice before. Once was on the road at Indianapolis back in '07 after they won the Super Bowl and then obviously last year at home opening the season against the Vikings. We have been on both sides of that. Obviously when we went to Indianapolis we got waxed pretty good. We understand the type of environment that we will be stepping into at Lambeau on the opening night. It will be a very excited crowd. With Green Bay's hopes and expectations of what they can accomplish being as young and talented as they are coming off a Super Bowl victory. We have our work cut out for us but obviously we have to be able to go on the road and win big games in tough environments if you want to be the type of team that can go and win a championship. I feel like we are that caliber of a team but we have to go out there and prove it."
On what is new with the Brees Dream Foundation:
"I am proud to say that there is one thing that this offseason has helped us do and that is a lot of charity work. We are actually above the $7 million mark in what we have been able to raise or contribute. We are still in the process of finalizing all of our work with the Hope Lodge, which has been a $1 million project. The Hope Lodge is a facility that houses cancer patients who come from out of town to get their cancer treatments, whether it is the children's hospital or Ochsner. We are very proud of that project.
"We have all kinds of great things that are coming out in the fall that we will be talking about and trying to gain support for. We had a bunch of great events this offseason. We are always looking for more projects to take on in the city. A lot of them are helping to rebuild schools, parks, playgrounds and athletic fields. We try to help fund tutoring and mentoring programs. Focusing on youth programs and helping young people. For people that want to stay updated with the foundation they can always go to www.DrewBrees.com. That is a great way to stay up to speed with what we are doing at the foundation."