Statistically, the Saints classify a big play as a play in which the football is advanced at least 20 yards in the course of a game. A big play can also be defined by the excitement level it creates.
Devery Henderson is king of the big play.
The Saints wideout has been making big plays in Louisiana since his days at Opelousas High School. At Louisiana State University, he was a standout member of the BCS Champion football team and national champion indoor track and field team, primarily running short distances. Henderson made some of the biggest plays in Tiger history on the gridiron.
The highlight of his collegiate career came on November 9, 2002, when the Opelousas native caught the famed "Bluegrass Miracle" – a 75-yard touchdown catch on the final play of the game to help the Tigers defeat the Kentucky Wildcats, 33-30.
The "Bluegrass Miracle" was awarded an ESPY for the "Best Play" and was named the Play of the Year by the Associated Press.
QB Drew Brees was asked about the play earlier this week and he vividly remembers the historic catch.
"I think the thing that everyone remembers is that they dumped ice on the Kentucky coach and you can tell he's angry," said Brees. "He's saying the game isn't over and sure enough the ball gets tipped and Devery catches it. He wore number nine at LSU, so I had that flash at number nine streaking past everybody as the ball gets tipped and he catches it. It was an unbelievable play. So, Devery and I, he's talked (to me) about that experience before."
Henderson emerged as one of the nation's top, and most explosive, weapons while in Baton Rouge, catching 89 passes for 1,311 yards and 19 touchdowns even though he made the transition from running back to wide receiver following his second season.
He was drafted by the Saints in the second round of the 2004 NFL Draft with the 50th overall pick.
"I expected to be drafted out of state," said Henderson. "I was shocked on draft day to get drafted by the Saints. I didn't have a clue that they were interested in me."
Fast forward eight and a half years later. Henderson and defensive end Will Smith, the team's first-round pick in 2004, are the two longest tenured players with the organization. Henderson has moved inside the top five or top 10 in almost every team receiving category.
"When we arrived in 2006, we told both the existing and new players that they would be evaluated based on what they do, not what we hear," said Assistant Head Coach/Linebackers Joe Vitt. "During this time, he's lived up to all the expectations that we have had for our players. While he's always shown an ability to stretch the field, he's also been one of our most consistent and reliable players on offense."
Henderson has caught 241 passes for 4,341 yards and 20 touchdowns in his professional career.
Over time, Henderson has not lost a step. In fact, Smith believes he is still just as fast as when they were drafted together nine seasons ago.
"Through the years here, he's gotten better and better," said Smith. "He is one of Drew Brees' go-to guys and is constantly continuing to make big plays."
"I don't have a choice," said Henderson. "When you have that, you have to work on it and keep it available. You have to keep bettering yourself. You work on the weak parts of your game every day but you have to maintain all of the other things, even the simpler and smaller things."
The combination of speed, work ethic and schemes has given Henderson opportunities to leave his mark on the professional level.
Henderson has averaged 18.3 yards per reception since 2006, the highest total in the NFL. Of his 219 catches in the same period, 46 have been for gains for 25 yards or more.
Henderson has 17 catches for more than 50 yards and five receptions for over 75 yards, tied for second in the NFL.
He is ranked fifth in club record books with 10 100-yard games and holds three of the five top single-season yards per catch figures in club history.
"There is just something with me and big plays," said Henderson. "I just always try to take advantage of opportunities. I've been on the receiving end of some major plays throughout my career and I just keep working hard and try to keep myself available for when I have those opportunities."
Henderson capitalized on an opportunity on September 25, 2006, the re-opening of the Superdome after Hurricane Katrina.
After Steve Gleason's blocked punt that was recovered for a touchdown, Henderson made his own stamp on the game. Dubbed the "Superdome Special," Henderson took a handoff from Reggie Bush on a reverse and caught a block from Brees to free him for a touchdown. The score gave the Saints a 14-3 lead that Atlanta never overcame.
He also rose to the occasion in the spotlight for the 2009 postseason.
Henderson caught four passes for 80 yards in the NFC Divisional Playoff contest against the Arizona Cardinals, including a 44-yard touchdown reception on a flea flicker.
He led the Saints in receiving in the NFC Championship game against the Minnesota Vikings and was able to get into the end zone for a touchdown that evened the score.
As if he hadn't done enough, Henderson tied Marques Colston for the team receiving lead in Super Bowl XLIV, catching seven passes for 63 yards on his way to becoming a champion.
Henderson has lived every football player's dream - helping deliver a collegiate National Championship and a Super Bowl championship to his home state.
"It was a great experience, something I will cherish for the rest of my life," said Henderson. "Being able to have some success in my home state is really special. It has been a blessing."
Now, Henderson is able to use his big play-making ability as a weapon on the top-ranked passing offense in the league. He is part of a passing attack that includes fellow playmakers like Colston, Jimmy Graham and Lance Moore.
Even with so many other talented players, the elder Henderson remains humble and ready to help out the team any way he can.
"I would happily run a route 50 yards down the field to open up Lance or Colston coming underneath," said Henderson. "Eventually I'll have my shot. There are no egos in this group. We work with and for each other."
The selflessness comes from the relationship fostered by the group over time both on and off the field. The receivers, as a group, try to help each other and offer support no matter the situation.
"We really care about each other," said Henderson. "We want to see each other succeed, that's what fuels us. We just have a closeness that takes us a long way. No selfishness."
When asked though, there was one pass that Henderson was happy to be on the receiving end of. When facing the San Diego Chargers earlier this season, October 7, Brees had an opportunity to pass Johnny Unitas for the most consecutive games with a touchdown pass (48).
Towards the end of the first quarter, Brees lined up to take a snap with Henderson split out wide. The signal-caller found Henderson streaking down the field after losing the defensive back with a double-move and connected on a 40-yard touchdown pass to give him sole possession of the league mark that had stood for 52 years.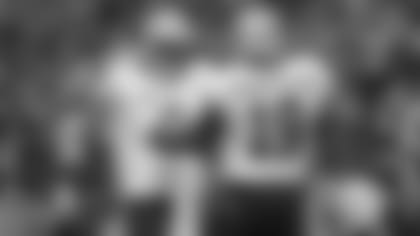 "Catching the ball, I knew it was the record," said Henderson. "To be a part of that was very exciting and I didn't skip a beat as far as giving him the ball. It's a great accomplishment; he deserved every bit of that."
Henderson, once again, found himself on the receiving end of a historic play.
For the receiver, though, being targeted on the play shows his growth and the struggles he has overcome since arriving in New Orleans in 2004.
"Him having that trust, being on the same page, and having that confidence in me speaks a lot of where I came from and the struggles that I've had early on in my career," said Henderson.
Even as a veteran, Henderson's growth is nowhere near complete. He remains focused and ready to produce for the offensive unit.
So far this season he has already caught 18 passes for 280 yards and one score with an average of 15.6 yards per catch. He pulled in a pass of 36 yards against Kansas City, 41 yards against San Diego and passes of 30 and 40 yards against Tampa Bay.
"The motivation for me is that I enjoy what I'm doing," said Henderson. "That's a great thing. And to actually be a part of successful teams has made it even better."
In his ninth professional season, Henderson knows that his long stretch on a Louisiana football field could be limited in one way or another.
"The reality of it is this is not going to last forever," said Henderson. "This is rare though, what I'm going through right now, as far as being in my home state for my entire career to this point. No matter what, it means a whole lot to me."
For now though, Saints fans can remain glued to each game, anxiously awaiting a Henderson big play.
"Hopefully I can be a part of another one (Super Bowl) and bring more rings back to Louisiana."