Saints Jr. Cheer Krewe | New Orleans Saints | NewOrleansSaints.com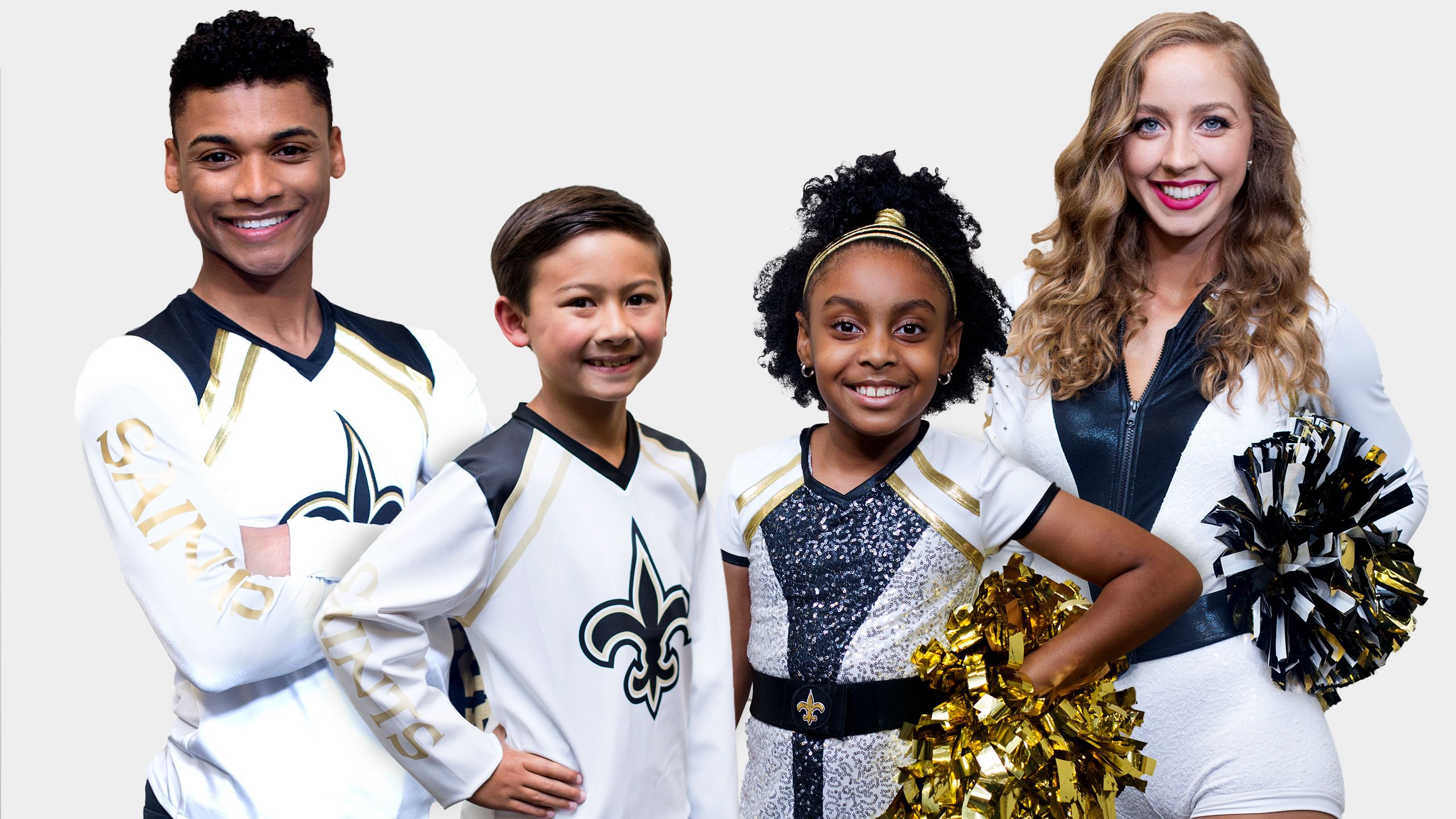 SAINTS JR. CHEER KREWE HALFTIME PERFORMANCE
AUGUST 26, 2022 | SAINTS vs. CHARGERS | CAESARS SUPERDOME
The Saints Cheer Krewe invites children ages 5-14 who love to perform to join us for our preseason halftime show experience! Our Saints halftime show experience gives your child the opportunity to work exclusively with the Saints Cheer Krewe on dance, tumbling, and stunting. Participants will learn choreography, tumbling/stunting skills, rehearse at both the Saints indoor practice facility as well as on the Caesars Superdome field, receive a custom Junior Cheer Krewe shirt, and the opportunity to perform on-field for our halftime show during the August 26th preseason game vs. the Los Angeles Chargers!
We need you to help us make this a truly unforgettable show for the best fans in the NFL!
Event information:
Who: *Kids 5-14 years old
*In-game Performance: *Friday, August 26 - 7:00 p.m. kickoff
*Registration Deadline: Thursday, August 11
Mandatory Practice Dates:
Sunday, August 14, 2022
9:00 a.m. - 12:00 p.m.
Ochsner Sports Performance Center (5800 Airline Drive, Metairie, LA 70003)
Saturday, August 20, 2022
9:00 a.m. - 12:00 p.m.
Caesars Superdome (1500 Sugar Bowl Dr, New Orleans, LA 70112)
FAQ
Does my child have to have a ticket to the game in order to perform?
Yes. Performers and attendees must have a game ticket to participate. We recommend finding tickets on SeatGeek or NFL Ticket Exchange. We will also be providing more information on drop-off/pick-up locations for game day at an upcoming rehearsal.
Are practices mandatory?
Yes. Each performer must attend both practice dates in order to be eligible to participate in the halftime performance.
What should my child wear to rehearsals?
Your child is free to wear Saints branded gear if they have any. If not, sticking to Saints colors (black, white, gold) is best to help us visualize the show more effectively. Clothes should be comfortable and easy for them to move in.
What will participants perform in?
All participants will receive a custom Junior Cheer Krewe performance shirt and either metallic gold poms or a Saints rally towel. They'll wear their own coordinating sneakers with either solid black leggings or joggers.
Will snacks be provided?
We've shortened rehearsal time a bit to better accommodate their attention span. The majority of rehearsal time will be spent working on halftime show material, but we'll ensure that your child also gets adequate water breaks and time to bond with the Saints Cheer Krewe. Please make sure your child brings water.