The start and end of each day is a challenge for Steve Gleason since he was diagnosed with amyotrophic lateral sclerosis (ALS) in January 2011.
The disease continues to take away Gleason's muscular functions and voice, which has forced him to rely on others to help with most daily tasks.
Friends and family help Gleason get out of bed each day. He is then stretched for 25-30 minutes. Showering usually takes 45 minutes, which he does at home or at the Saints facility.
In addition, it takes an hour or two for Steve to be dressed, fed, his wheelchair mounted computer ready and seated in his wheelchair to start the day.
"No more waking up 13 minutes before practice and still getting there on time," said his wife Michel Gleason.
As high spirited as Steve is, the outlook of what could lie ahead can be depressing for most people in his position. Sad moments are inevitable when dealing with such an aggressive disease. Steve's tremendous support group and his Team Gleason Foundation can only encourage him so far. Sometimes the weight of the challenges that he faces every day can be overbearing.
However, there is one motivating factor that continues to push Steve to attack each day with the same passion he did on the gridiron – his 19-month old son Rivers.
"In order to thrive with this disease you need a few things – number one a good support system and number two you need some type of purpose in life to live and fight," said Michel. "With Steve, he's started a foundation in order to help with that purpose, but it's not even comparable to how important Rivers has been to him."
Steve was diagnosed with ALS in January of 2011. The following month, Steve and Michel, who wanted to start their own family, decided to attempt in-vitro fertilization. Michel became pregnant in February and on Oct 19, 2011, Rivers was born.
The Gleason family is very busy with their foundation and love for travel, but when there are bad moments, Rivers is the source that revives Steve's happiness.
"Every day is an adventure of discovery," said Steve through email. "I suppose that's not a drastic change, but the light that Rivers shines in our life blinds me to the point where I don't feel like I have ALS. Or, maybe it's that I do not care that I have ALS. Either way, it's a beautiful light."
Steve and Michel are discussing having a second child. It would require more full-time support from others but they would love for Rivers to have a sibling.
Steve didn't waste any time beginning the process of raising Rivers. Once they knew Michel was pregnant, Steve started compiling first-person video journals for his child. The videos focused on lessons and stories he wanted to tell his child in an effort to capture the essence of himself and his life.
During Michel's pregnancy, Steve would take five minutes every night to shoot a quick video with his iPhone to create a resourceful video library for his child. Once Rivers was born, Steve would have Rivers in the videos as he taped himself talking to his son directly.
"If I die while he is young, which is not my plan, lots of people will tell Rivers, 'Oh, your dad was such a hero.' Hero this, hero that," said Steve. "Part of what I wanted to do with our video library is share my inadequacies and struggles. Also, I want to share my mind and heart with him so, hopefully, he can know me as well, or better, than any other son knows his father."
Rivers shares his father's love for the outdoors. Steve will regularly ride around his neighborhood for hours with Rivers on his lap picking flowers or whatever he can reach from Steve's wheelchair. Sometimes they will attach a bungee cord behind his chair and Rivers will run behind him. Soon, Rivers may start cruising on a skateboard behind his dad. The Gleasons have a communal backyard at their New Orleans home, giving Rivers plenty of room to run around.
With the loss of his voice, Steve now relies heavily on Michel to get his lessons across to Rivers.
"Steve tells me he wants Rivers to do this and do that, so he has to almost raise Rivers through me," said Michel. "Sometimes I am doing 10 things at once and it can wear on my patience for how much he wants Rivers to do, but it's cool that he still wants to do it. Obviously, anyone would rather do it themselves, but right now we are trying to figure out the best way to raise him like Steve wants to raise him."
One powerful lesson Steve has taught his son is his eagerness to meet others.
At 19 months old, a child can typically be hesitant to approach or engage with someone that is in a wheelchair. There can be uncomfortable reactions from such a young child who doesn't know better, but not for Rivers.
"Recently we met an ALS patient who could hardly move and she was in a wheelchair and most neighborhood kids kind of stayed away," said Michel. "Rivers looked right up at her smiled and said 'HI!'"
As outgoing as the Gleasons are, Steve and Rivers' favorite hobby together is to relax at home.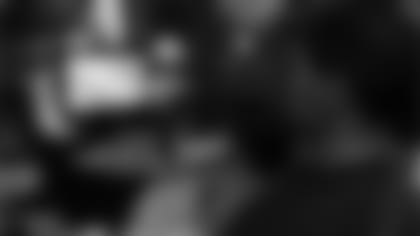 Last Wednesday after a long day, Steve and Rivers capped off the day with what has become a daily routine for the duo. Rivers was sitting on Steve's lap drinking from his bottle while they watched live music videos on his computer.
In this moment, Steve was not an ALS fighter, a philanthropist or a safety breaking through the line to block a punt. He was just a father bonding with his son or as they call each other - it was just "Dadoo" and "Baboo" rocking out to some Pearl Jam.
ALS has slowly taken away a lot from Steve. One thing it will never steal, not even get within 100 yards of, is his love for Rivers.
"I hope the love that Michel and I have for each other serves as an example," said Steve. "An example of what Rivers can have in his life."