New Orleans Saints Offensive Coordinator Pete Carmichael
Conference Call with New Orleans Media
Friday, December 28, 2018
Sean told us that Teddy (Bridgewater) is going to be starting. What have you seen from him over the course of the season from practice?
"He came in he's clearly a smart player. He picked up the offense very well and the opportunities (that) we see out there (at) practice you see a guy that throws the ball very well. He's accurate. He makes good decisions, so we're excited."
What does it say about him and the way he has embraces his role as a backup and the way he fits into this locker room so well?
"Well I think he's a true professional. I think that the players respect him. I think he goes out and knows his role and you know he has leadership ability. He is smart. He knows the offense and when he gets in there he operates very efficiently and we're excited."
What do you think of his dance moves?
"Good question. I think my kids are working on those themselves but I think they're pretty good."
Well speaking of Drew and awards that that segwayed perfectly. How would you make the pitch for him to win MVP? If you had to.
"Obviously, I think he's had such a tremendous year here. He's played at a high level like he always does but he's been exceptional this year. Just the way he's led this team and this offense. There's a great argument to be had that he should be the MVP."
How tough is it preparing for a game like this? When there's going to be backups in there and having to get guys ready who haven't maybe had other opportunities?
"You are limited with your roster to begin with. So again, we'll have an opportunity to get some guys from work. But again, right now the approach is everybody is ready everybody is ready to play and so there's not a lot of that. I think maybe as much as you think. You say just what the limited numbers and you know you know you have 53 on the roster and we have 20 something up on both sides of the ball so I think that everybody is going to be prepared and we'll go from there."
What have you thought about this play on the offensive line this season, particularly with Andrus Peat being able to play three different positions?
"Well, that speaks volumes of what these guys have done. We've had to have some versatility with those guys and they've accepted those roles. They've gone out and performed at a high level. Both in the pass game and the run game and they've got a great teacher in Dan Rousher and Brendan Nugent and those guys are communicating well and playing at a high level."
You are still on track to have the highest rate of scoring per possession this season. Was there a time in this year that you realized that this offense could or would be special?
"At some point it was talked about. We came into the season though feeling pretty confident with our personnel and where we were at. It really hasn't been discussed other than maybe a week or two. I remember it being mentioned but I think the focus is one game at a time."
Looking at the injury report. It looks like you are going to be without (Larry) Warford and Terron (Armstead). What are you looking forward to as far as the offensive line?
"Well, any of those questions as far as that perspective of who's injured and who's not (available), that'll be answered obviously by Sean (Payton) but I think again we've got a great group of guys. We've had to move some of those guys around throughout the year so they've handled that well."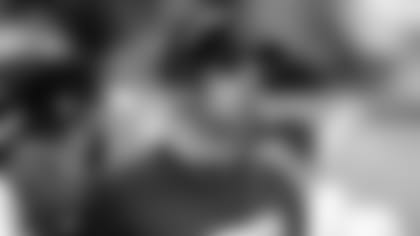 New Orleans Saints Defensive Coordinator Dennis Allen
Conference Call with New Orleans Media
Friday, December 28, 2018
What has it been like going up against Teddy Bridgewater in practice?
"I think Teddy's really smart. A lot of what we do with our pressure package and stuff, we'll have Teddy really kind of set the protection, so we see what it will look like in a real, live situation, rather than sometimes you get on a card and you kind of want to block it a certain way to make sure that a pressure comes free or whatever. I think Teddy does a good job of giving us a realistic look. Certainly he's pretty astute in terms of what we're doing and how we're trying to come after him and I think he does a good job of attacking our guys a little bit and putting some pressure on us. He's a starting caliber quarterback. I'm sure he'll have some opportunities to play this weekend."
How have you seen P.J. Williams progress, given that it's more like his second year rather than fourth, given he missed the bulk of two with injuries?
"I think you're probably pretty accurate. Last year was his first full year of playing. In one sense he was a rookie last year. I think P.J.'s matured a lot and become a solid pro. He's done a good job of studying the plan, studying what the opponent's going to do. He has real good awareness out there on the football field. He's one of the more intelligent defensive backs we have back there. In terms of the communication, it's kind of a comforting feeling as a coach to know that at such a critical position like the nickel where there is so much adjusting to do, that he has that type of awareness and instincts that allow us to be able to do a lot of different things actually. I think he's grown as a pro and he has the skillset to play at a high level and I think he's really done that the last two years."
Can you talk about his approach and ability to make open-field tackles?
"Certainly tackling is a lot about want-to. P.J. has really bought into our mentality about playing defense. The only advantage you have in defensive football now is fear. All the rules in our game are based on helping the offense, giving the offense the ability to score some points. We have to use whatever we have to our advantage. 70 percent of the game is sub-personnel and teams are running the football. His ability to be a good tackler has made us a pretty good run defense."
What's the primary thing that's led to the success of the run defense this year?
"It's tough to say one thing. Number one, the success that you have defensively or offensively for that matter, the number one factor is the players. I think we really have a good group of defensive players. I think they've bought into the scheme. I think they all understand what their role is. I think as the season has gone on, I think those guys have taken a lot of pride in being the number one run defense in the National Football League. That's something we really try to hang our hats on and our guys have done a really nice job of that. We're probably one of the better tackling teams in the NFL and certainly a technique, but a lot of that falls onto the players."
Alex Okafor said at the beginning of the year that the team was hoping to be a top ten run defense. Was that emphasis that offseason to make that group better?
"We had high expectations going into the year and I think each year's different. Certainly we felt like we gained a little bit of momentum after the '17 season and felt like that was an area we could still improve on. I think that was an area where our guys really had a goal to be one of the better defenses in the National Football League. I think we have the talent to be able to do that, so our guys have worked extremely hard to put themselves in position to be there and certainly that's a credit to them."
How would you evaluate Marshon Lattimore's second season?
"Certainly I think he's played really well for us. There are a lot of things that we've asked him to do because of his ability. Sometimes we put him out there a little bit on an island. That's what the great corners do in our league. They embrace that challenge and I think he's done that and played really well for us. Each season's going to be a little different from a statistical standpoint and that's not what our primary focus is on in terms of statistics. His coverage ability allows us to do a lot of different things and do some things to allow us to get after the passer a little bit."
Without getting into specifics with lineups, is it a challenge in games to tell guys to sit down and tell guys to take a breather?
"We've approached the week from this standpoint. We've approached this week just like any other week we've played. There's a lot on the table for us in terms of trying to get that win number 14, which has never been done in this franchise's history. I think there's a lot of motivation in that. I think regardless of who plays, when they play, how they play, there's only one way to play this game. That's full-out, 100 percent effort to play this game fast, physical and that's what we've focused on. We really haven't focused on anything besides that. Those are all decisions for Coach Payton on how much a guy will play or if he'll play. He'll let us know what he wants to do. Other than that, we're preparing to go out, do our best and win a football game."
Cam Jordan has never missed a game. Does that factor into your decision-making?
"I think you'll have to ask Coach Payton that, because that's ultimately a decision he would make."
How much does it impress you the volume of snaps Cam does take week after week?
"I've said this before and I'll continue to say this, I think Cam is the best defensive end in our league. I think that because he has tremendous stamina, he has a ton of snaps. Each one of those snaps is played a very high level. He plays both the run and passing game with equal effectiveness. If he's not the best, he's certainly the most well-rounded defensive end in the National Football League."
How much of a step forward has Vonn Bell taken, especially in these late stages of this season?
"I think he's really taken a step forward this year. This is probably the year that you see the awareness and football intelligence take a step forward and that's been really good to see. There were some things that we asked him to do in terms of getting bigger and stronger in the offseason. I think he had a great offseason. He came back ready to go. He was highly motivated to improve himself. I think he's done that. It's a tribute to him and the work he's put in that he's been able to play the number of snaps that he's had as well as had the amount of production that he's had."
How has Alex Anzalone progressed this year?
"Alex was a guy we were really high on this year, unfortunately he got hurt in that Miami game over in London. He really lost the year of progression in terms of experience. I think early in the year was limited in terms of how much he was playing and what we were asking him to do. As the season's grown and evolved, we've been able to increase his role on this football team. I think he's a highly intelligent player, very athletic, sideline to sideline and in space. We try to put him in as many of those positons as we can and certainly he's been an effective playmaker for us."