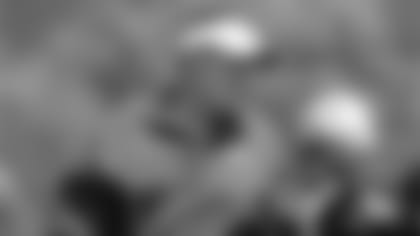 PATRIOTS HEAD COACH BILL BELICHICK
BB: Great to work with the Saints; they're a great organization. I have a lot of respect for the ownership, with Mr. [Tom] Benson and of course Sean [Payton] and Joe [Vitt] and his staff and players. We had a really good practice out there in terms of working with them and just getting better. [There are] a lot of things we need to improve on. They're a real good football team, they do a good job. It's kind of a heavy heart today with going to Garrett Reid's services and seeing Andy [Reid]. The Saints, Mr. Benson, were generous enough to let me go down there with them on their plane this morning. I'm just glad I had an opportunity to be there and see Andy and his family and the Eagles organization. I have a lot of respect for them and what they do as well. They're great friends and my heart goes out to him and our team does to the Eagles. We'll take a look at things tonight and we have some situations and other things to build on tomorrow. Instead of just playing one game against a team like this, we really get three goods days of work against them so we'll try to take advantage of that and help ourselves get better.
Q: Was there good energy out there, as far as seeing somebody different?
BB: Yeah, absolutely. We got a lot of good new looks and we need them and we'll learn from them and it will make us a better football team. It was a good day.
Q: Last time you two scrimmage, Coach Sean Payton was here. You two are two of the best NFL coaches. What do you make of him not being here this time?
BB: I miss Sean not being here. I think the world of Sean and he's a great friend. I look forward to seeing him back out here soon.
Q: How challenging do you think it is for a team to have to go through a season without a head coach?
BB: Right now, I'm just focused on coaching our football team. That's really what I'm concerned about.
Q: Devin McCourty was saying that the players had a little extra energy today but he felt that to this point the energy has been consistent in camp.
BB: I think the players have worked hard. They came back in good condition and they've competed well through camp. Again, we have a long way to go; we have a lot of work to do. We'll see how it all plays out but they're trying and we have a good competitive group so they've pushed each other.
Q: How much does your defense get out of having Tom Brady every day in practice and now getting to face Drew Brees?
BB: Yeah, no question. Our defense gets challenged every day in practice. Look at what New Orleans did last year and they have kind of those 11 players back – setting NFL records and passing yardage and Drew in completion percentage and all that. [They're] the top scoring offense in the league, [they] move the ball. It's a big challenge playing against that group. They're different – they do different things than what we do and they're very good at it. It's good for our defense to see the best and compete against the best.
Q: What kind of things are you looking at and concentrating on with so much going on out there?
BB: Ultimately we're trying to evaluate our players and we're trying to evaluate our team. There are things individually that players need, that coaches need just in terms of getting their coaching routine – calling plays, making adjustments, seeing their opponents and making corrections for what they do. We all have things individually that we're working on and then collectively as a team we have to pull things together and do a better job of coaching areas that we're not executing as well on based on what we want to do.
Q: Is it a good test to get against a team that has already played one preseason game so they've already had the live, full speed mode?
BB: I don't know. You can't worry too much about the other team. The Saints are here, they're a good team, they're playing well. They do a lot of things well so we're just competing against them, whatever they've been doing.
Q: Can you talk about Sterling Moore?
BB: Sterling, like a couple other players on our team that got here or came to us in midseason, has had the benefit, including all the rookies last year, has had the benefit of a full offseason and full training camp with that offseason to prep to go into it. I think Sterling and all of our second-year players are a lot better prepared than what they were last year. I think that's helped them. You can see it in their play, their confidence and overall execution.
Q: Coach Joe Vitt called your organization the Microsoft of the NFL. How do you respond to that from an organization that's already pretty good?
BB: We just try to go out and work hard and get better every day. We know that there a lot of other great organizations and teams and players and coaches out there. It's a good challenge every week and certainly the Saints are one of the top teams in professional football. As I said, they're well coached, they have great talent, good players, good scheme [and] they win a lot of games. We played against them two years ago, practiced against them two years ago in their championship season. There isn't any team we have more respect for than the Saints from top to bottom. They do a great job all the way around.
Q: Curtis Martin revealed on Saturday night that he got through his career without having a lot of passion for the game. How many guys have you ever encountered in your career who were able to get through a career even close to his without truly loving the game?
BB: I don't know. That's a tough one. I'd have to think about that one for awhile. I don't know. I couldn't give you a number.
Q: How did it go out there today?
WW: It was good to see somebody else out there for once and go against some different competition and see somebody else besides your own teammates. It was good to see.
Q: Is a different intensity? A different speed?
WW: I feel like all of our practices are pretty intense. It's two-a-days and everybody's trying to pick it up and show something. I feel like it was just a different energy out there going against somebody else.
Q: What can you get out of a play like when Tom Brady throws a pick? Can you be thankful that it's a practice and not an actual game?
WW: I just learn from those mistakes and that really shouldn't be happening, but at the same time, that's what camp is for. Learn from those mistakes, understand them and bounce back from them.
Q: How different is this for you with a preseason game coming up on Thursday as opposed to what you can accomplish today and tomorrow?
WW: Preseason games are preseason games. You have to come out there and play well. It's the same way out here. You're always being evaluated and you're always looking over your shoulder so you always want to make sure you're doing the best you can every time you're out there.
Q: Are you looking for weaknesses in the Saints that you can exploit on Thursday?
WW: You're looking for weaknesses all the time. Watching film and everything else you try to find weaknesses in people and try to exploit them as much as you can.
Q: What was running the lap about?
WW: Yeah I jumped offsides so I took a lap.
PATRIOTS DB DEVIN MCCOURTY
Q: What are some of the benefits of joint practices?
DM: Getting a chance to go against a different group of guys and getting a chance to go out there and compete. I think we're really trying to give ourselves a chance to get better out there. You know, going against our offense, you start to see the same things, and to see a new offense and a good offense with a lot of different weapons, I just felt like it was a good opportunity for us to come out and try to play well.
Q: What does it feel like to face Drew Brees?
DM: I mean, you talk about trying to play those top guys in the league like Tom [Brady] and now having Drew in here, we don't get a break, so you really have to try to be perfect. It sounds crazy – so you try to be perfect on every play but when you go against quarterbacks of that caliber you really do because you know 90 percent of the time they're going to be perfect. The ball is going to be where it has to be and you really have to play very well on defense to try and compete with those guys.
Q: Is the energy level different with an opponent on the field?
DM: Yeah, but I thought we've always done a good job of day-in and day-out trying to keep a high energy level coming in here, but you know when you see a different jersey out here that of course you're going to get amped up a little bit. I thought both sides came out and competed on every play. It was a good practice out here and we'll get another chance to do it again tomorrow.
PATRIOTS TE ROB GRONKOWSKI
Q: What's it like to have these joint practices?
RG: It's great. The Saints coming here, new competition, new guys, new looks. You get to pick up the speed more. It's just the intensity. You go against the same guys for two weeks straight against your teammates, so it's always great to get a new look. It was very competitive out there today and I believe we got so much out of it. Myself, I felt like I got a lot out of it, too. It's just awesome going out there and competing and feeling what you've got against other guys in the league. Overall I think it's a great concept practicing in the preseason a bit against other players.
Q: Can you learn anything from just watching a guy like Jimmy Graham up close?
RG: Oh yeah, definitely. That's another thing, too; there are so many great tight ends in this league on every team and you're watching them play, watching them get open. Jimmy Graham is a great tight end and just watching him, what he does, how he gets open. You can always use aspects of other people's games and bring them in to your game to help you out.
Q: You've trained with Jimmy Graham in the past, right?
RG: Yes. That was back before we were going into our rookie year. We trained a few times together in Florida with Pete Bommarito down there for the Combine.
Q: How anxious are to get back into a game on Thursday?
RG: I've been anxious to start football [for a long time]. It's great being back in camp and bringing another team in with the Saints. It's great to go against new competition. I had a blast out there today. Our fans were unbelievable; that thing was [full] today for practice. It's just a great honor to go out there, go full speed with other players. And I'm always excited, even if it's a preseason game. I'm excited for Thursday night. We've got one more practice tomorrow and then it's game time and I'm excited for both.
Q: What do the fans add to practices like this?
RG: The fans are unbelievable. They're doing a great job coming out and supporting us. We can't thank them enough. They give you the extra energy boost going in. when you're lousy for a moment, they get loud, they get excited and they get you going too. It's always great to have them out there, always show up, always make some noise: sometimes unnecessary and sometimes necessary. It's all fun. They get you going and it's awesome to have them out here.
Q: What have you learned from watching Jimmy Graham?
RG: His speed, his separation definitely, he's good at the long ball, how he goes up and grabs it in the air. He used to be a basketball player, so it's kind of cool to see him go up. He grabs the ball at the highest point and that's something you always want to do when the ball is coming at you.
Q: A local gymnastics Olympian won a gold and a bronze medal today. How does it feel to hear that good news?
RG: Local talent around here in Massachusetts – I mean, this feels like my home now, so it's great to hear that. It's always cool to put on the Olympics. It's a great time of the year because you always have something to watch on TV, especially if you're a sports fan. And seeing al the other kinds of sports like gymnastics and track, it's unbelievable just to turn on the TV and see these elite athletes go at it full speed.
PATRIOTS DL VINCE WILFORK
Q: How was it out there today?
VW: Good day. I think we got a chance to work against a real, real good football team and a great organization and actually get a chance to see where this team is at. I think things went well. I think we practiced well together and I think there are a lot of things that we need to do a lot better, but it's a start. It's definitely a start. It's an opportunity to go out and practice against someone other than yourself and see where your football team is at, especially with a really good football team in the Saints. We're excited about it and we're going to come back out tomorrow with the corrections and hopefully we can have a better practice tomorrow.
Q: You get to practice against Tom Brady every day, but talk a little bit about Drew Brees here. How tough is it to go against him?
VW: He's a hell of a quarterback. He's very smart, he's very passionate about what he does and [so is] everybody else around him: the offensive line, his backs, his receivers. That's just a good football team; offensively they're very, very, very good. Going against them, seeing Brady and now Brees, it's tough matchups for this defense, but they can make us better and that's what we're looking for: to be better as a defense and hopefully we can help this ball club win some ball games this year.
Q: There's been good energy in camp so far, but does a day like today bring out a little bit more because you're finally seeing another opponent?
VW: Yeah, it's a little different. Like I said, we've been grinding. I think guys have been pretty good with practicing every day and going against one another and now you get a chance to come out and face a really good football team and that's a plus for us. It gives us a chance to work on plays different than we've seen different from our offense. Now they pose a threat in different ways. It just gives us a big, big challenge for this defense. What can you do against another good offense with Drew Brees and company and go from there. Like I said, I'm pretty sure everything wasn't perfect—nothing is perfect—but you get a chance to learn from it, learn from a really good offense in the Saints and correct some things and move forward going into this year.
Q: Can you assess Chandler Jones' day today?
VW: You'd have to ask him. Ask him. We're all out here to get better as a unit and I think the only way you can get better as a unit is if individually you take yourself to a higher level. So you have to ask certain individuals that question about themselves. I know I can come out here and give it my all and I expect the same thing from the rest of my teammates. For the most part it's been good. The energy has been great, guys have been working hard, we haven't had anyone complain and that's the positives. [We're] pretty health and health is everything. We want to be able to get out of camp healthy and [be] a smart, tough, football team and actually a football team that's ready to play football. That's where we're at now.
Q: Was it any different for you guys with Bill Belichick being away this morning at Garrett Reid's funeral?
VW: No. We knew how to handle business. We came in, we got right to work and we do like a team does. You have coaches that step in, the defensive coordinator, the offensive coordinator and then the players. You just step right on in and get to work and that's exactly what we did this morning. You step right in and things that we've done with him we just continue like he was here. You know you're going to have times like that when you have a coach that might have to leave and that's when you depend on your staff and your veteran players to get things in order and we had no problems